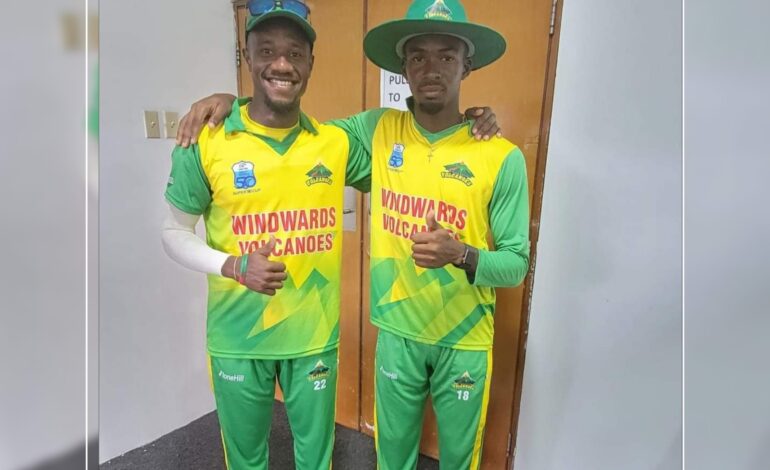 On Wednesday 9th November, 2022 the Windward Islands Volcanoes secured its third win in five games by a comfortable margin of 97 runs. The Windward Volcanoes secured 277 runs in their 50 overs with the Combined Campus falling short with 180/9.
Dominican cricketer Kavem Hodge displayed an all-round performance with 34 runs from 55 balls. He also secured 4 wickets for 15 runs and two maiden overs within his 10 over bowling spell. Unfortunately, Dominica's top order batsman and Vice-Captain of the Windward Islands Volcanoes, Alick Athanaze, was not among the runs.
At the post match interview, Athanaze expressed, "I think it's about seizing the key moments. If we are doing well we must continue to do well. If some of us are not doing well the rest of us should carry that person. We just have to stick to the basics and things will come out good for us."
Notably, at the end of five games both Kavem Hodge and Alick Athanaze are among the top performers at the 2022 CG United Super 50 Tournament. Athanaze holds the cap of most runs in the tournament with 279 runs while Hodge secures second place with 259 runs. Moreover, both Athanaze and Hodge form the top three positions of the highest scores in the tournament thus far.
As it pertains to bowling, Hodge holds the second place position of most wickets with a total of 10 wickets with an economy rate of 3.56.
On Saturday 12th November, 2022 the team will take on its next match against the host team Trinidad and Tobago at 2 o clock pm at what is deemed a win or go home situation.