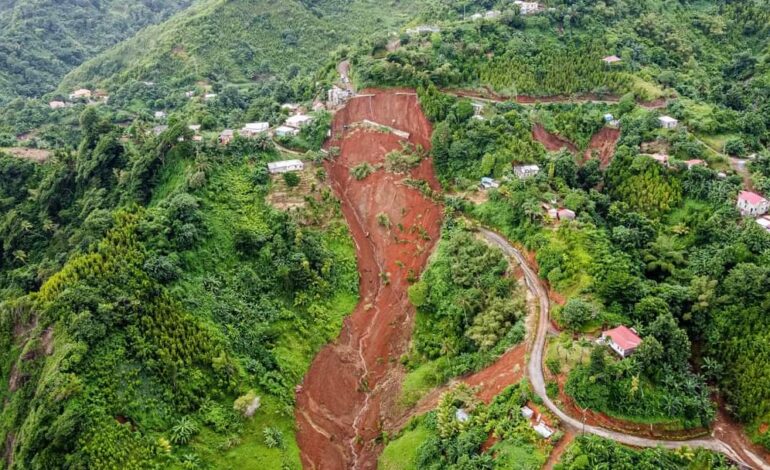 On Sunday 6th November, 2022 the East and South East of Dominica, particularly the communities of Castle Bruce, Petite Soufriere, San Sauveur, La Plaine and Delices, were battered by a trough system which resulted in the loss of life of one adult male and a series of landslides and infrastructural damage.
Upon an update from the government of Dominica on Thursday 10th November, 2022 the Prime Minister Honorable Roosevelt Skerrit expressed, "Unfortunately we had one death in the village of Petite Soufriere, Mr. Henson Durand. I want again to extend to his family and friends, my personal condolences and that of the people and Government of Dominica."
According to Skerrit, the government will not abandon anyone and certainly not the people of the East. He confirmed that they have been working assiduously to provide supplies to the communities on the East and South East which have been affected. Moreover, a doctor has been deployed to be resident in San Sauveur to provide care to persons suffering from chronic illnesses and other persons needing medical attention. With respect to schools, food and water packages have been distributed to all schools within these parts of the island.
What is of concern, however, is the difficulty of access to these communities, particularly Petite Soufriere and San Sauveur. "Creating access is a challenge. I have spoken to many residents in Petite Soufriere and San Sauveur and informed them that we have to look at relocating. Relocating the Petite Savanne way. Relocating the Dubique way. We have done this before and we can do it again," Skerrit stated.
While the Prime Minister does not think that the communities need to be declared as disaster areas in the strictest sense of the definition, he voiced that the government is looking at possible safe locations to build the new communities and it is their hope that villagers do not have to extend too far out of their zones. "While we are dealing with their immediate substantial needs we have also started to discuss the long term solutions to the challenges confronting the wonderful people of these communities," he added.
Further, the Prime Ministers articulated that the government of Dominica will continue to play its part in providing support and supplies and calls on other willing and able Dominicans to provide support in whatever way they can. Skerrit expressed special thanks to IsraAID for their willingness to assist in these difficult times.
With the call for relocation, Skerrit mentioned that they will liase closely with the people of these communities to get their opinions on this life changing activity.