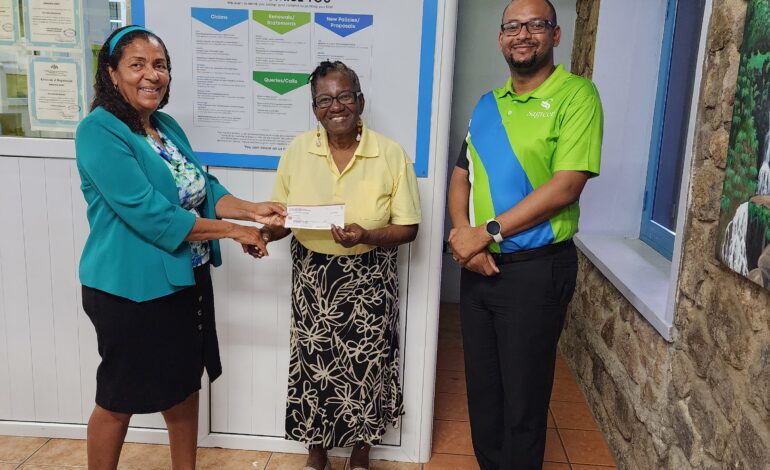 Each year in September the Dominica Council on Ageing (DCOA) celebrates the Month of the Elderly (MOTE). This year Sagicor joined them in their celebration by donating to their series of events designed to give seniors a red-carpet treatment.
The Dominica Council on Ageing (DCOA) is a non-governmental non-profit organization which serves as a coordinating body for national groups concerned with the welfare of Older Persons. During MOTE, the council hosts radio programmes, panel discussions and various other events. This year, Sagicor played its part in ensuring the elderly received the recognition they deserved by donating directly to the Appreciation dinner, an event hosted by the Council to honour 45 persons who have made outstanding contributions to the welfare of older persons. This is the first time this event would have been held in the Council's 26-year history.
Cheryl Rolle, General Manager of WillCher Services Inc and Principal Representative for Sagicor Life (Eastern Caribbean) Inc (SLECI) in Dominica joined with Brenton Hilaire, Agency Manager for SLECI's operations in Dominica, to make the donation last Wednesday to Loranna Jno Baptiste Special Projects Officer and Treasurer of the DCOA.
Rolle noted at the cheque handover "Our seniors have contributed greatly to the advancement of our community and as a company we value and honour this contribution. Through this donation we wish to show our gratitude and continued support for the good works being executed by the Dominica Council on Ageing."
Hilaire, who has been recently elected as the President of the Dominica Association of Industry and Commerce (DAIC) also noted "Our seniors' efforts are the solid foundation on which our economy now stands. We want to thank them for their past and continued service to building a strong society." DCOA's Month of the Elderly is celebrated for the entire month of September climaxing on October 1st which is observed by the United Nations as International Day of Older Persons.