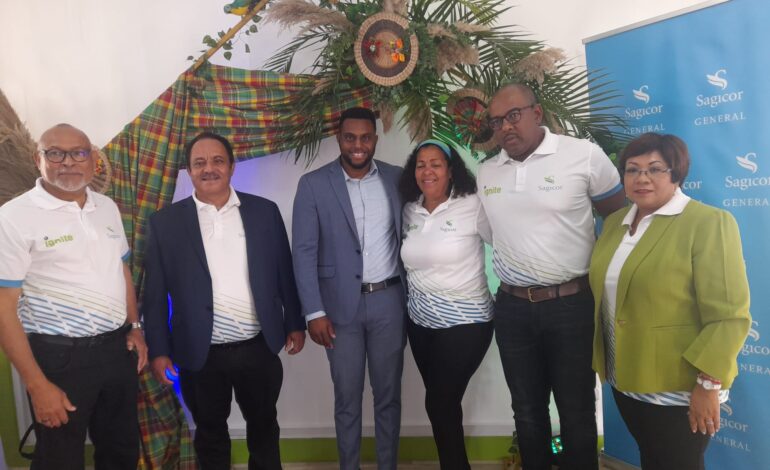 Sagicor life Insurance Inc has recently opened an extension office to offer wider general products and services to Dominicans.
On Friday, 24thFebruary 2023, the office was officially opened at Corner Hillsborough Street and Great George Street, Roseau during a Ribbon cutting ceremony. 
CEO of Sagicor life, Donald Austin said with this extension this expansion the company will ensure and continue full digitalization development.
"I would just like to say that the evolution of the insurance industry is one in which we are seeing because of the last three years the evolution and development of digitalization is coming more into being and certainly we will continue to ensure the full digitalization process which we have started at sagicor which is reflected in all our businesses across the region," he stated.
Austin said that Sagicor has started work over the last couple of years by developing their systems soft customers benefit.
"You will see we've just launched about two months ago our E life system which will incorporation all of our lines of business so that you can actually go on to the Internet and have access to our general insurance, life insurance and investments," Austin stated.
The company hopes to see increase growth in the general area to make sure they can deliver even better services.
He said that in the next couple of months persons will see the development of not only the life insurance sector but also the general insurance sector.
A presentation was made to the principal representative Sagicor general in Dominica, Cheryl Rolle during the ceremony.
She was awarded as the "lady of the moment" for her contributions of a team leader for the company for the past 35 years.
Assistant manager of Eastern Caribbean (EC) operations, Deborah Raoul said the launch of this new location is powered by the dedication embodied by "this power house of a lady."
"Cheryl has made it her life's mission to be excellent in her business activities and professional in every undertaking. Each and every client is treated with respect and with the care that Cheryl brings to everyone with whom she interacts she ensures that lines of communication are always open to meet their needs," she stated.
She said this office is a physical manifestation of Rolle's vision and goals and the confidence which the wider Sagicor group has in her.
"Thankfully Cheryl has never been singularly focused on work but has used her office and her resources to positively impact both the people at sargico and those in the wider community. Cheryl would have influenced many on Sagicor's team members and has significantly contributed to the growth of the insurance sector in Dominica."
Rolle is heavily involved in the community outreach and personally takes on projects that are "dear to her heart" and was said to have invested her own finances in the development of community groups and providing gifts for students successful in their exams and the Sagicor south east football team beyond the annual sponsorship we provide to them.