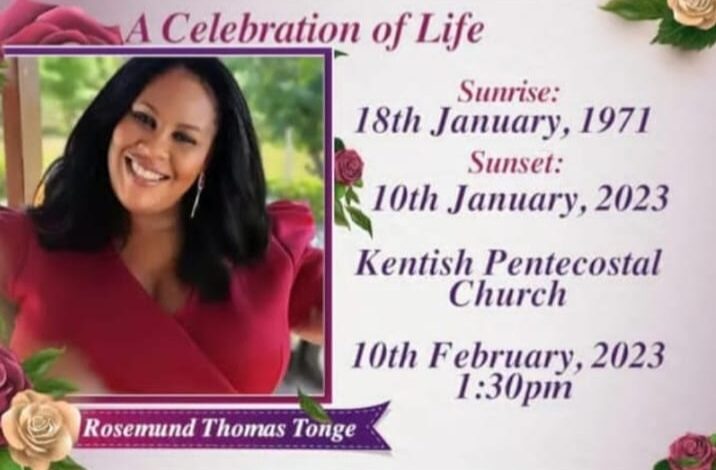 The family sadly announces the passing of 51-year-old Rosemund Thomas Tonge of Fortune, Dominica, who last resided at Ffryes Estate, Antigua. Sunrise: 18th January, 1971. She died on Tuesday 10th January, 2023 in Atlanta, Georgia. Rosemund was the daughter of Jones and Roma Thomas of Dominica, (both deceased).
Left to mourn are her husband Ian Tonge and her 4 children: Sean, Dilan, Sparkle and Jubilee Tonge.
Her grandchildren: D'nijah, Maxwell, Kacela and Lola Tonge.
Her brothers: Melvin, Peter, Derrick, and John Thomas. Her sisters: Jacqueline Michael, Jemma, Clemencia, Rose and Rosetta Thomas.
Nieces and nephews include Tilda, Grace, Glen, Jad, Shana, Sasha, Nanette, Nelda, Jermuel, Jacquil, Trafton, Rumelia, Kyonn, Deon, Mani, Melva and Kijarie. As well as 7 great nieces and nephews.
Her aunts Maisy and Mary as well as her uncle Mathew Cyprien.
She left to mourn cousins residing in Antigua, Dominica, the US and UK to include: Judy, Carolyn, Christine, Heidi, Theresa, Stephen, Cyrillia, Glenda, Stanley, Avondale, Robert, Janna, Desmond, Peter, David, Curtis and their families. The Letang, Cyprien, McIntyre families and others too numerous to mention.
In Laws to include Dianne, Patricia, Vernon, Bruce, Ruthina and their families.
Honorable mention to the principal, staff and students of Princess Margaret School where she last taught, the University of the West Indies: Five Islands campus, Tonge's Advanced Learning Centre, Apostle Dexter Laurence and members of the Bolans Pentecostal Assembly. Many other close friends & families residing in Antigua, Dominica and the US who are too numerous to mention.
The funeral service of Rosemund Thomas Tonge will be held on 10th February, 2023 at the Kentish Pentecostal Church at 1:30pm. Tributes commence at 1:00pm. Burial will be held at the Lady of the Valley Cemetery. May her soul rest in eternal peace.