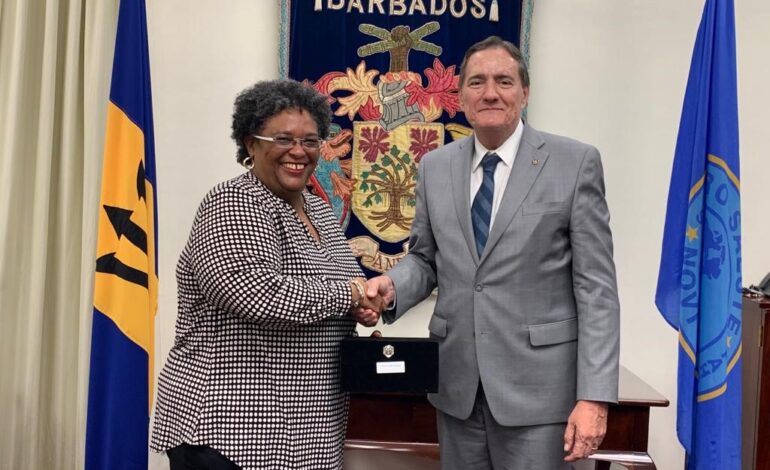 Bridgetown, Barbados, 12 June 2023 (PAHO) – The Prime Minister of Barbados, Hon. Mia Amor Mottley, today met with Pan American Health Organization (PAHO) Director, Dr. Jarbas Barbosa, during his official visit to the Caribbean country.

During the meeting, Dr. Barbosa and Prime Minister Mottley discussed the urgent need to protect health while promoting social and economic development in the Caribbean Region.

"As we begin to recover from the COVID-19 pandemic, I look forward to continued collaboration with Barbados, and the Caribbean as a whole, to rebuild stronger, more resilient health care systems," he said.

Prime Minister Mottley thanked Dr. Barbosa for the Organization's continued collaboration with the country, including in the areas of primary health care, anti-microbial resistance, non-communicable diseases (NCDs), vaccine equity and resilient health systems.

Dr. Barbosa also discussed health system resilience and recovery in the Region, as well as technical cooperation priorities with the Barbados Minister of Health and Wellness, Dr. Jerome Walcott, and senior officials of the Ministry.

The PAHO Director met with Minister of Foreign Affairs and Foreign Trade, Hon. Kerrie D. Symmonds, and highlighted the importance of engaging all countries of the Americas in the debates around the future pandemic instrument.

During his visit to the country, Dr Barbosa will participate in the Small Island Developing States (SIDS) ministerial conference on NCDs and mental health, which is taking place from 14-16 June in Bridgetown.

The meeting convenes ministers of health and other high-level authorities from SIDS to discuss the scaling-up of multisectoral actions on NCDs and mental health, particularly given the impact of climate change on small-island states.

During the meeting, which takes place ahead of the UN General Assembly High-level meeting on Universal Health Coverage in September, participants will not only commit to increasing both national and international cooperation on mental health and NCDs but will also agree on a set of country-specific actions to operationalize this commitment.

Dr. Barbosa will participate in the inauguration of this meeting, alongside Prime Minister Mottley and World Health Organization (WHO) Director-General, Dr. Tedros Adhanom Ghebreyesus.

As part of his official visit, Dr. Barbosa is also due to tour the Sir Winston Scott Polyclinic, and the Best-dos Santos Public Health Laboratory, and will meet with the British High Commissioner, and the European Union Head of Delegation.