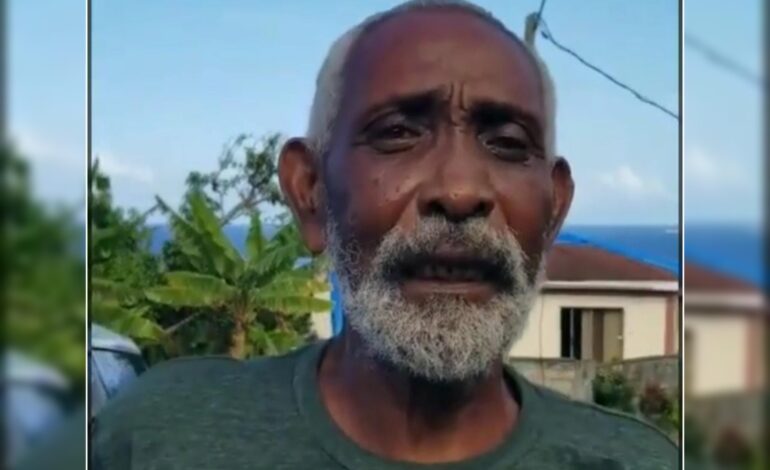 We announce the death of Mr Rupert Benjamin, better known as Fox age 75 of Vieille-Case.
Sunrise – March 14 1947
Sunset- January 24 2023
He lave to morn
Wife: Agnes Helen Benjamin
Sons: Sonny Benjamin, Darius Benjamin, Ashton Benjamin, Kim Benjamin Wayne Benjamin
Daughters: Angela Benjamin, Avis Benjamin, Asha Benjamin, Geraldine Benjamin
Brothers: Julius Benjamin, Marcus Benjamin
Sisters: Sandra Benjamin, Marvlyn Joseph
Step- sons: Curtis ,Earl, Kendrick, Dorian Douglas
Grand sons: Josh Francois, Ethan Benjamin, Nathan Casimir, Ty Benjamin Kevin Gustave, Mario Marcelle, Kenneth Hedeed, Steven Benjamin, Simon Benjamin, Rudolph Benjamin
Grand daughter's: Alliyah Benjamin, Natalia Marcelle, Alysa Francois, Delisa Rodman, Aria Benjamin, Rebecca Benjamin, Layla Benjamin , Celine Benjamin
Great grendchild: Ava Durand
Nieces: Starshar Joseph, Sarita Joseph, Serena Joseph, Afiya Benjamin
Vanessa Benjamin, Vendetta Benjamin, Aisha Emmanuel
Nephews: O'Neil Benjamin, Tyrone Benjamin, Malachi Benjamin
Leroy Jackson, Jessie Jackson, Ackam Joseph
Sisters in-law: Patsy Lubin, Gracelyn Raphel
Brothers in-law: Steve Joseph, Gilbert Hughes
Son in-law: Kelvin Francois, Burton Pelage
Daughter in-law: Elizabeth Paris Benjamin
Special friends: Honorable Roosevelt Skerrit, Ian viville , TJ viville, Pleche Seaman
Close friends: Cletus Seaman, Vida Tavernier, Nurse Stella Leblanc, Heather Dider, Derick Douglas, Authorton & Crew, Cecilia Seaman, Virginia Royer
The body for the late Mr Rupert Benjamin better known as Fox, will be transported from the Gentle Rest Funeral Home for viewing at 1:30pm at the Vieille-Case Catholic church on Monday 6th February. Funeral service begins at 2:00pm follow by interment at the Catholic Cemetery.