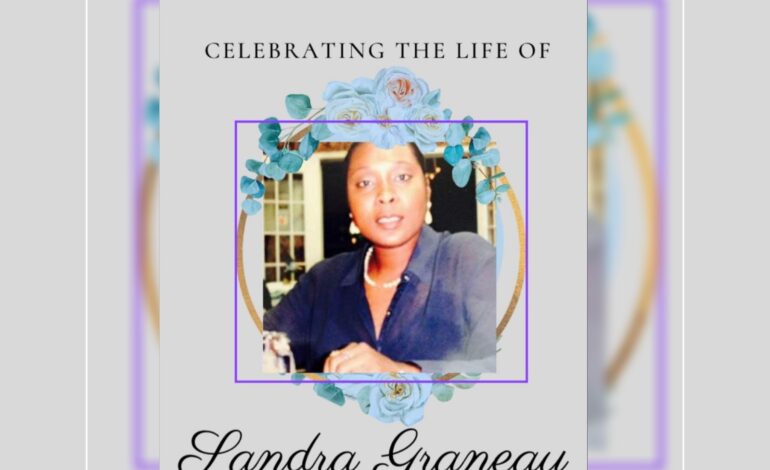 It is with a heavy heart that we announce the passing of our dearly beloved Sandra Graneau Age 58 who resided in Plantation, Florida. She died on January 3rd 2023 in Florida
She left to mourn:
Her Husband: Frank Lawrence
Her Children: Obree Lawrence and Saveeta Graneau
Parents: Victoria Winston and Herbert Sukie Winston, Father: Hyram Graneau
Brothers: John Graneau, Fabian Graneau, Hubert Winston, Brandon Graneau, and too numerous to mention
Nieces: Halle Winston, Danita Charlemagne Smith, Shiann Graneau, Marisa Graneau, Jalauni Graneau, and too numerous to mention
Nephews: Seth Graneau, Shaquile Graneau, Levar Graneau, and too numerous to mention
Uncles and their families: Gifford Charlo Charles and children, Isaiah Graneau and Evelyn Graneau-Rachbasingh and children, and Franco Graneau and children
Aunts and their families: Rhoda Graneau and children, Verona and Virginia Graneau and children
Cousins: Bernard Brumant Graneau, Lucia Fagot, Reggie and Dorana Edwards, and Jean Graneau as well as the Graneau, Auguiste, Brumant, and LeBlanc family of Vielle Case, Salybia, Bataca, Sineku, and Concord. The Graneau family from Grenada and the Graneau-Samaroo and Narine family in Trinidad and Tobago.
Her son in Law: Leon Chambers
Close Friends: St. Martin Girls' friends from Trinidad, Jane Tatitt and Lina Smith from Trinidad, Janet Horie, Esther, Bethany and Dr. Gbenga Charles Oladele and Paula, Meyna, Leah and Anthony Chambers from Florida, family and friends too numerous to mention
Caretaker: Quincianny Casimir- Cuffy
The body of the late Sandra Graneau will be transported from Lyndhurst Funeral Home for the funeral mass on Friday 3rd February at 1: 30 pm at the Wesley Catholic Church. The interment takes place at the Wesley Catholic Cemetery.
A memorial mass will be held on Wednesday February 1st at 1:30pm at the Fatima Church in Newtown.