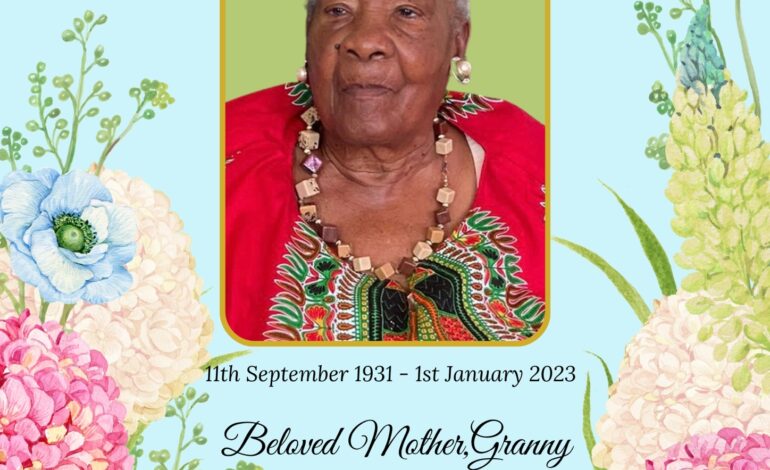 We announce the passing of our dearly beloved Jeanne (pronounced "Jan") Andrews-Dublin, age 91 of Mahaut, better known as Teacher Jeanne, Ma Dubs, Ma Jeanne, lady Hailles. She died on Sunday 1st January 2023. Left to mourn:
Children:
Desmond, Dr. Damien Dublin, Marcia, Josephine-Dublin Prince, Howard and Hesron Ambrose, Denia Henry and Lucia Joy Stewart in Canada.
In-Laws: Josephine, Megan, Vanya and Smith.

Grandchildren:
Andrea Henry-Walters, Nicole and Kyle Stewart in Canada;
Anil Ambrose in England, Dr. Janin Dublin-McIntyre in St. Lucia, Donia Dublin in St. Thomas, Jodie Dublin-Dangleben, Denver, Craig and Lenin Dublin, Ghanrick Goodwin, Saigna and Savanni Ambrose.

Great-grand children:
Denesha, Creighan, Jayden and
Stefan Dublin, Leila Georges, Zayne Dangleben, Avery McIntyre in St. Lucia, Jania Ambrose in U.K., Izaiah Stewart and Lila Walters in Canada.

Predeceased by:
Husband, Cyril Dublin; Siblings: Watson Andrews, Rita Destouche, Nettie Jno.Baptiste and Syltese Joseph.

Nieces and Nephews:
Joan Andrews (Guadeloupe); Donia Destouche Officer & family; Virette Jno.Baptiste & family (Canada); Andrews family in England – Flavia, Derek, Claudette and Catharine;
Breckenridge Joseph & siblings (U.S. & Netherlands); Kervin & Diana Scotland & family.

Cousins, their siblings and families:-
Hypolite Peter (Canada), Marvlyn Peter, Ikes Jacob, Herle Lancelot, Hendricks Ismael, Lorna Jules and Peter Denis (England), Rosie Stevens.

God children: Clara, Josette, Steven and Mary.

Family friends:
Valencia Webb (adopted daughter), Lorima Vidal – Caregiver, Tisha Willems,  Cuthbert Corbett, Sheryl Ambrose, Daphne Birmingham, Verna Simon, Jonathan Vidal, Anora Lee, Emelda Victor, Ronisha Vidal, Randy Musgrave, Loretta Graham, Cynthia Barber, Vanya David, Hattie Pacquette, Herman Bardouille, Rupert Lance, James (Babbi) Riley, Nurses and health workers of the Mahaut Health Centre, Dr. Lisa Jolly, Dr. Robertson Thomas, Dr. Albert Savarin, Dr. Irvin Pascal,
The Dublin, Jacob and Etienne families; and many other close friends and families too numerous to mention. The body of the late Jeanne Hyacinth Dublin (nee Andrews) will be transported from Lyndhurst Funeral home on Saturday 14th January for viewing at 9.30a.m. at the St. Martin de Porres Catholic Chapel in Canefield followed by funeral mass at 10:00a.m. The body will be interred at the Mahaut Public cemetery