Sheldon "Shelly" Alfred of Goodwill is an artiste, songwriter, scholar, designer and acoustician. His stardom was rooted from age 12, when he won three consecutive Junior Calypso Monarch Titles as "De Professor". Today, Alfred is a prominent figure in Bouyon Music. Along with his group Signal Band, Alfred is contributing distinct detail and attention to lyrical craft with hits to date such as Ani Ba Yo Love, Local, On My Way (Side Life) and most recently released Man vs Rose.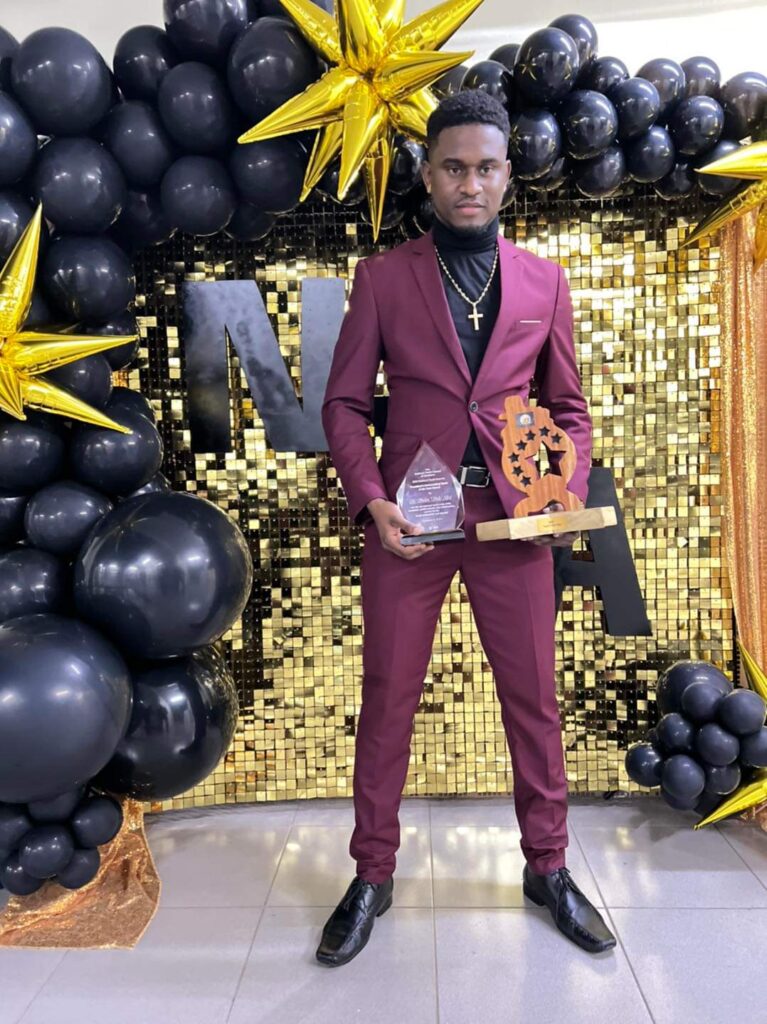 In light of his contribution in the entertainment industry, Alfred was awarded the male Youth of the year award along with the President's outstanding youth of the year award at the National Youth Awards in September. According to him, the atmosphere on the night of the awards was one filled with pride and excitement. "The National Youth Council of Dominica must be commended for presenting a ceremony of such class and setting the tone for what was truly a celebration of youth excellence," he added.
As per the criteria of the Male Youth of the Year award, this award is presented to an exemplary young man who is contributing to community development through the art form of music. This gentleman exhibits exceptional leadership, mentorship for youth and outstanding service to his community and country by extension. Notably, Alfred believed that he fulfilled the criteria for this award as he has shown an outstanding display of balancing skill and formal education.
"I usually get the question 'Shelly, how do you do it?' People are literally fascinated by my ability to balance my capacities as artiste and lead singer of Signal Band, while I completed a Master in Architecture Degree from USA's most prestigious Harvard University," he articulated.
Interestingly, Alfred expressed that upon receipt of the awards he felt a split between gratitude and motivation. "Gratitude for being recognized at such a high level not once, but twice in one night; and motivation to keep working and representing myself, community and country at the highest levels," he said. "It's not often we can get to sit back and bask in our success. These awards have allowed me to take a small pause in awe of myself. Either way, there is more work ahead than behind me, so I can't overstate how much of an impetus these awards will be," he voiced.
In view of his recent success, Alfred expressed appreciation to a number of persons. "I wish to thank the Supreme Being above for my many gifts & talents, my parents for seeing in me what I hadn't seen in myself. Every friend, family, educator, DJ, composer, musician, songwriter, producer, announcer, journalist and stakeholder that have played a part in my journey and in shaping me into the young man that I am today. Special gratitude has to be expressed to the FANS for they are one of the biggest reasons I do what I do at the level at which I do it," he thanked.
Significantly, Alfred noted that the plan for the future is to keep developing a brand that can stand proud in the international market. "That will come through new releases, music videos, events and other elements of personal and professional development. I've also taken up the challenge of merging my two passions, music and architecture, and I have been exploring and learning more about the field of Architectural Acoustics: the study of sound behavior particularly in buildings," he revealed.
As Alfred continues to pursue and bask in his passions, Emonews wishes him an abundance of success.