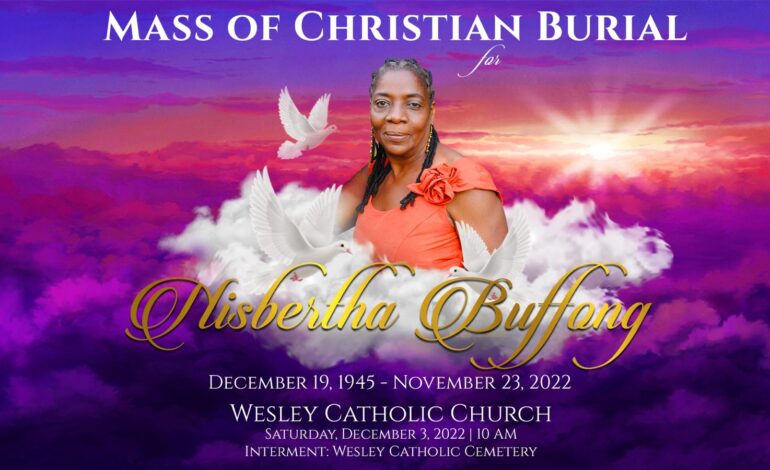 We announce the death of Ms. Nisbertha Buffong, also known as Teacher Pet, aged 76 of Rosehill, Marigot, who formerly resided at Copt Hall. She died on Wednesday, November 23rd at her daughter's residence in Warner. She leaves to mourn:
Children: Samantha Buffong-Scheurich, Rodriguez Buffong and Kathy Buffong-Royer
Stepchildren: Yvonne & Richard Buffong
Former Spouse: Harold Buffong
One sister: Babara Ichbel Zamore
Brothers: Fred & Joe Joseph
Grandchildren: Raegan and Kaeland Royer, Danielle and Kai Buffong, Fabienne, Elena and
Phillip Scheurich
Nieces: Sheila Burnette, Edith, Esley and Lana James, Deborah Zamore, Alison & Martha Joseph
Nephews: Edison, Clement Lennard & Hank Joseph, Rueben, Mark & Marquise James, Roger and Arlington Burnette, Cleveland Zamore, Fitzroy George
Sons in Law: Roland Royer and Klaus Scheurich
Daughter-in-Law- Marvela Marie Buffong
Goddaughter: Maria Etienne
Numerous cousins, including The Abraham, Prevost, Hamlet, Joseph, and James families in Marigot, the Timothy & Prevost families in Wesley.
Close friends including Muffet Edwards, Bertha Sylvester, Neva Edwards, Mornlight Greer, Mrs. Celia Nicholas, Justice Wynante Adrien-Roberts, The Royer family in Cottage, Marie & Cadette families in Calibishie, Staff of the Roving Care Givers Program in Castle Bruce, the Ministry of Education, Copt Hall Community, the village of Marigot
Caretakers: St. Raphael's Helpers, Nurses Karen & Christiani Myler, Stacy Scotland, Gale Frederick, Nichola Bruno, Malica Timothy, Virginia Charles, Marilyn James, Nurses Shillingford and Anthony, Tessa Roberts & Joan Gordon, Members of the Clergy and Catholic Community in Dominica.
The body of the late Nisbertha Buffong will be transported from Lyndhurst Funeral Home for viewing at 9:30 am at the Wesley Catholic Church on Saturday, December 3rd, at 10:00 am. Funeral service takes place at the Wesley Catholic Church followed by interment at the Wesley Catholic Cemetery.
Stacia's bus will be available to transport people from Marigot and Javi Cuffy, bus number HF431, will transport people from Roseau who wishes to attend the funeral.