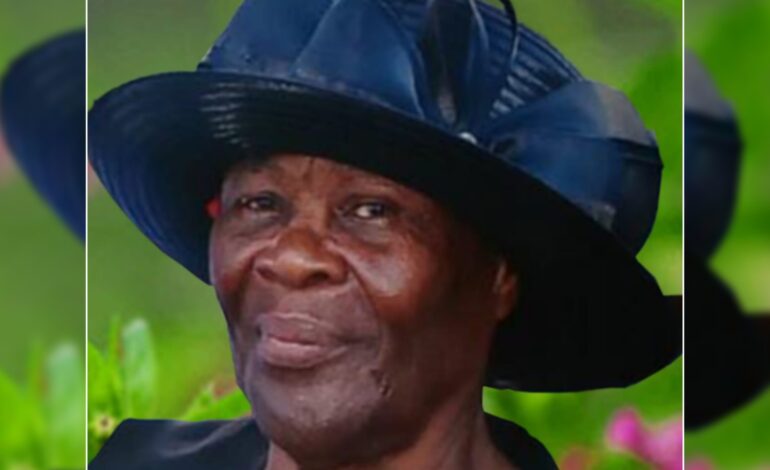 We Sadly announce the death of Cynthia Laplume Diggs better known as Tanty Puntus, Ma Foster or Mamo of Anse Sol Da
She left to mourn:
2 Sons: George and Ronald Diggs
5 Daughters: Martha Bannis, Magdalene and Francess Diggs, Maryann Augustine and Valentine Jacob
24 Grand-children: Ronnie, Romel, Diane, Diana, Breha and Kahira Diggs, Ge-Ann Pierre-Louis, Edron, Mindy, Mervin and Edrick Augustine, Kendalene Brudey , Mantha, Alton and Jilton Bannis, Nadia, Risa and Kaihym Paul, Reon, Jahvin, Jayden and Rehyia Jacob, Vernel and Marcel Prosper
10 Great-grand-children: Maryck, Malone, Shallane and Shayannah Prosper, Joshua, Zyaire, Rainn and Rhiver Diggs. Daena Adams and KayAnne Joseph
Daughter in-law: Ns Juliana Diggs
Son in-laws: Linton, Edgar, Oliver, Marcellin and Kennedy
2 Grand daughters-in-law: Lana Prosper, and Ameesha Diggs
Adopted Daughter: Annette King
2 Brothers- Steven Laplume and Edward Charles
2 sisters in-law: Mary Charles and Christy Laplume
Nieces: Olive, Annette, Althea, Averil, Edris, Mavis, Sandra, Mislyne, Janet, Nola, Shermin, Susan and Aggie, Jessica, Lisa, Maddie, Marie Anne, Joanie and others numerous to mention
Nephews: Julien, Rudolph, Felix, Jerome, Thomas, Roy Charles, Patrick, Crispin, Franklyn, Roy Thomas, John , Joseph, Eustace, Edd, Ettienne, Julius, Melvin, Ivor and others numerous to mention
Family & Relatives: The Bethelmie, George, Charles, Laplume, Francois, Thomas, Bannis, Joseph, Celestine, Jacob and Thomas Families. Justinpher, Maria, Shirley, Justina, Eileen, Watty, Jane, Julia, Janette, Theresa, Dawn, Phillip, Nurse Adora Toussaint, Jennifer Raymond, Rosenette Stevens, Storwel Charles & family of Marigot and Mona Francios and family.
Close Friends: Theresa Sylvain, Evon Matthew, Ann Isaac and their families
Others including; Magdalene Francios , Lydia Paul, Lucien Victor, Helena Wallace, Mary, Philomen, Peter, Sharane, Veronica Jacob, Pierre Carriere and family, Jeanette Carriere, Renneth and Raymond Steven, Agnesia and Jude, St.Vincent De Paul Society, Hon. Roslyn Paul, Mr. Matthew Walter, Nurse Seaman, Fr. Sharplis, Fr. Frantzo, & Fr. Sebastian
The communities of Bense, Anse De Mai, Anse Sol Dat, Thibaud, Paix Bouche. The Catholic and Adventist congregation. Other to numerous to mention.
The funeral mass of the late Cynthia Laplume Diggs will take place on the 5th November 2022 at the Anse De Mai Catholic Church. Viewing from 1:30pm, Service begins at 2:00pm. Burial will be at the La Coix Cemetery.