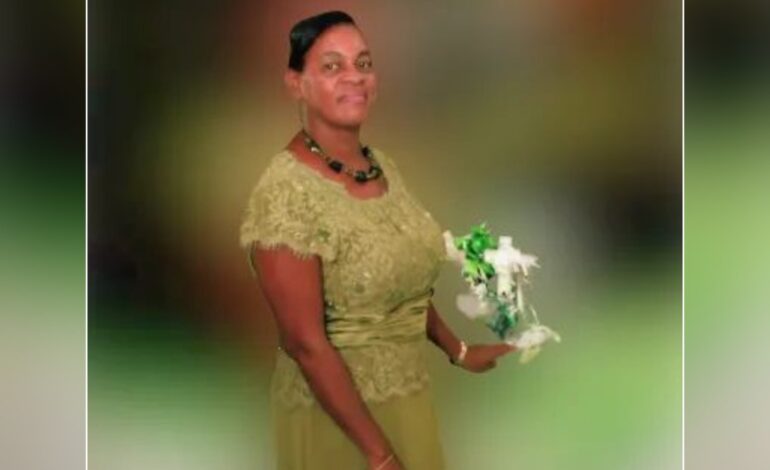 t is with profound sadness that we announce the death of Hyma Joan Savarin née Corbette, age 67 of Portsmouth who resided in Canefield. She died at her residence on October 31, 2022.
She is survived by:
Her Husband: Oswald Savarin
Sons: Kurt, Shon and Vince Savarin
Grandchildren: Emmanuel, Aniela, Kobe and Zaira.
Daughters-in-Law: Shana, Leandra and Irella Savarin
Brothers: Hubert, Derrick, Pat, Gerald, Charles and Albert Corbette
Sisters: Margarita Christmas, Petrolina Corbette-Frank and Jeannette Corbette
Brothers-in-Law: His Excellency Charles A. Savarin, Julian Savarin, Gibson Christmas, Ninian Frank, and Ralph Elwin
Sisters-in-Law: Yolanda, Petronella and Mary-Anne Savarin; Clarice, Helen, Josephine, Gletin and Primrose Corbette
Aunt: Catherine Corbette
Nephews: Eddie, Michael, Tevor, Rickey, Manfred, Boyd, Bob, Cuthbert, Gregory, Greg, Anthony, Jason
Nieces: Victoria, Hyma, Marva, Saraya, Nicole, Juanita, Patricia, Janice, Sharlene, Nazarene, Kendra, Miguelle, Marquitta, Samarah, Sharma, Tracey, Marcelline
God Children: Annette, Boyd, Micheal
Caretakers: Celina Matthew, Anelta St.Jean
Close friends and family: 1st Lady, Clara Savarin, Sylvesia Savarin, Meike Savarin, Clem and Peter Azille, Venus Seaman, Martha Maynard, Anthony and Ionie Lockhart, Angie Bruney, Arthur and Anette James, Vans and Winsome LeBlanc, Felix and Celia Wilson, Mary Parillon and family, Judith Pestina
Esther Panthier, Sylvia Guye, Mary Darroux, Norissa Peter, Charlton and Susanna Wright, Alvin Toussaint, Esther Green, Peter Challenger, Dr Adis King, Fr. Elveau Augustine, Fr. Charles Martin, Mirium Rolle, Msgr. Thomas, The Savarin, Corbette, Laville and Rabess Valentine families, Mr. John Lewis and family
Neighbours including: The Matthew, Robin and Paul Families
The funeral Mass will take place on November 12, 2022 at the St. Alphonsus Catholic Church from 10 a.m. followed by interment at the Portsmouth Catholic Cemetery.
The family would like to express our heartfelt appreciation to the staff of the A&E, Dawbiney and Glover wards at the Dominica-China Friendship Hospital who provided care for Mrs. Hyma Savarin.