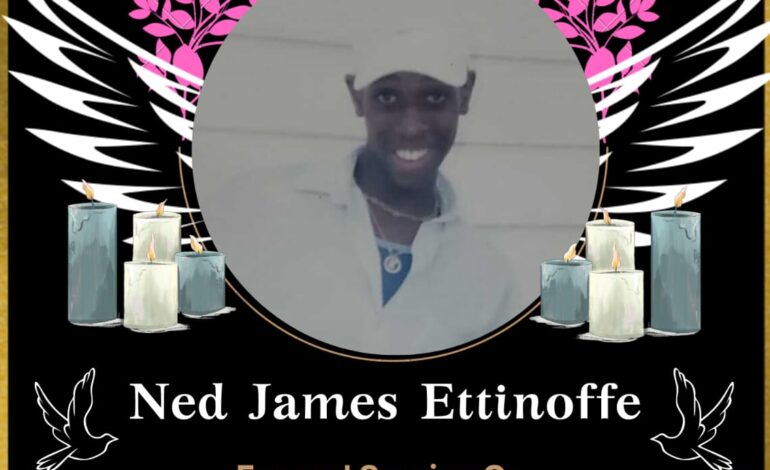 We announce the death of Ned James Ettinoffe aged 36 of Upper KingsHill. He died on Saturday, 14th January, 2023. He was the son of Sandra Beverly Jean-Jacques of King's Hill and Robertson Ettinoffe of Canefield.
He had two sisters, Tammy Jean-Jacques and Anna-Lisa Joseph and four brothers, Nathaniel Frederick, Robertson Junior Ettinoffe, Chris Ettinoffe and Robert Ettinoffe.
He had one sister in law Kermisia Ettinoffe and one brother in law Kervin Joseph. He had one niece Amara Ettinoffe and three nephews Ethan Moise, Tyrone Ettinoffe and Amare Joseph.
He will be remembered by his five aunts Geraldine Marshall, Bernadine John-Phillip, Sandra Ermine Royer, Lorraine Jean-Jacques and Deborah Jean-Jacques. Uncles including Pastor Mitchel Jean-Jacques, David Earl Jean-Jacques, Irvin Jean-Jacques, Roland Jean-Jacques, Reginald Jean-Jacques, Cyrus Jean-Jacques and Henry Jean-Jacques.
He had many cousins including Geraldine Webb, Dorana Martin-George, Camika Martin, Michelle Jean-Jacques, Ernelia Jean-Jacques, Kayden Jean-Jacques, Kailaynee Jean-Jacques, Caryl Baron, Rosemarie Jackson, Samara Fritz, Darry Warrington, Amon Stevens, Iriemiah Stevens, Isaiah Stevens, Job Stevens and many others too numerous to mention.
He will also be remembered by his grand aunts Olivette Faustin and Gretta Roberts and grand uncle Oliver Faustin, neighbours, his extended family and friends from the communities of King's Hill and Morne Bruce too numerous to mention and his dog Biscuit.
The ceremony in celebration of the life of the late Ned James Ettinoffe will be held on Tuesday, 31st January, 2023 at the Fatima Roman Catholic Church in Newtown from 3:00pm; viewing is from 2:30pm. Interment will be at the Roseau Roman Catholic Cemetery.