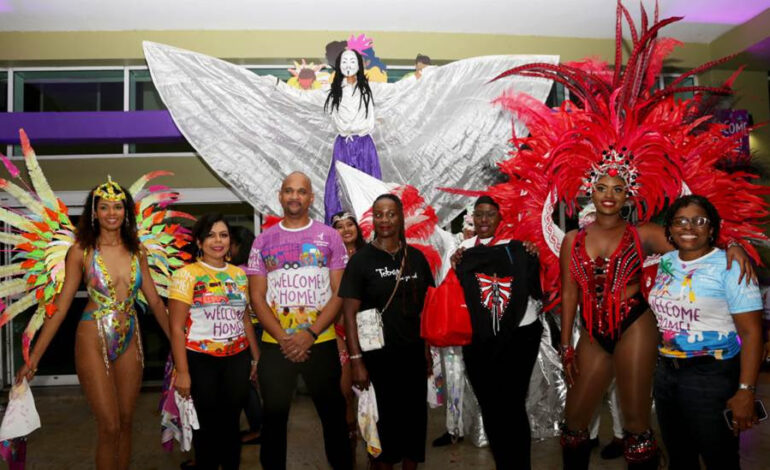 On February 16th Caribbean Airlines welcomed scores of visitors arriving at the Piarco International Airport, Trinidad Terminal, treating them to a taste of 'Trini carnival'.
 As part of the airline's annual "Carnival Customer Appreciation" activity, all passengers travelling on Caribbean Airlines' flights into Port-of-Spain, from various regional and international destinations, received an extra special "Welcome Home", as the airline resumed the initiative for the first time since 2020.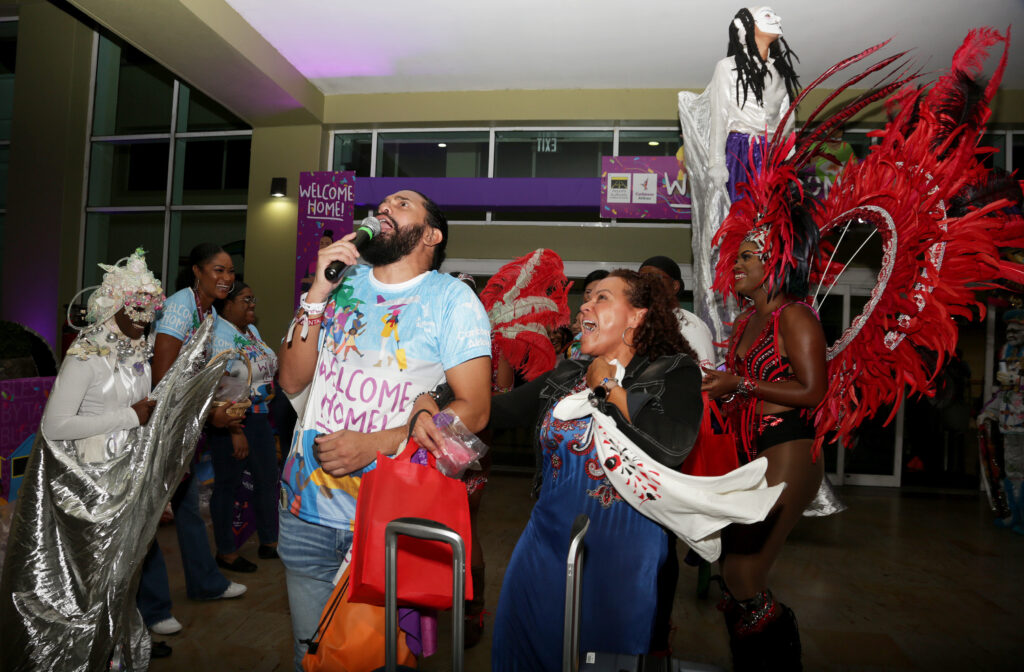 This year Caribbean Airlines partnered with a number of stakeholders including the Airports Authority of Trinidad and Tobago (AATT), Tourism Trinidad Limited, Tobago Tourism Agency Limited and the National Carnival Commission (NCC), to successfully host the event, which started from 8pm at the Piarco Airport.
Arriving passengers heard the sweet sounds of Steel Pan and Tassa music as they touched down at the airport and were greeted by traditional carnival characters like the Moko Jumbies, Dame Lorraine and Fancy Sailors.
Event host Patrick, the "HypeMan", kept the vibe and energy going and the Tunapuna Rhythm section and internationally acclaimed artiste Oscar B, were also on hand to entertain passengers, much to their delight.
Caribbean Airlines' CEO Garvin Medera in commenting said: "We are absolutely delighted for the opportunity to 'welcome home' so many visitors to Trinidad, many of them eager to experience the carnival festivities and other aspects of this twin island's rich culture that makes it a ' home away from home'.
He continued: "Our 'Carnival Customer Appreciation Activity' is always one of our key calendar events and we are happy to resume this initiative, where we continue to let our passengers know just how much we value and appreciate them. I also thank all the stakeholders who partnered with us to make the event an extra special one for customers this year."
Arriving visitors received complimentary gift bags from Caribbean Airlines and tokens courtesy the local Tourist Boards, plus, they were treated to delicious local cuisine like Doubles, Corn Soup, Crab & Dumpling, Dasheen Punch, and other delights like fudge, chow, sugar cake and tamarind balls, courtesy the airline and its partners.
Caribbean Airlines specially thanks the following sponsors for their support in executing this event:  Food Hall; Angostura; VEMCO; Kiss Baking Company; HADCO LTD; Nestle.