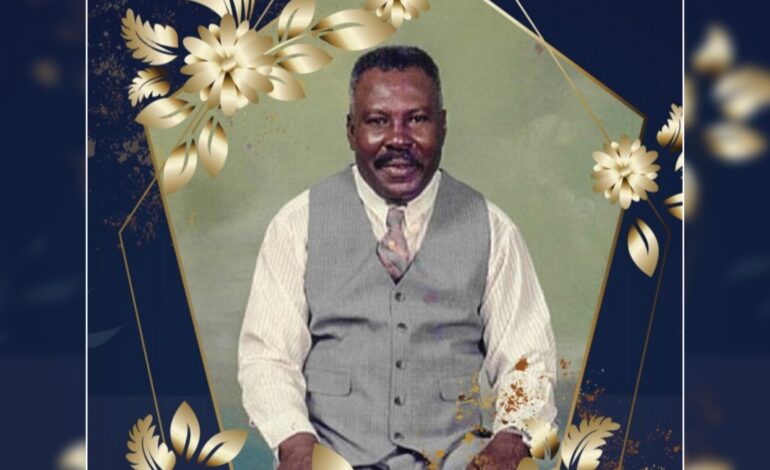 WE ANNOUNCE THE DEATH OF 94 YEAR OLD MR. GEORGE REUBEN ELIZEE OF 13 GOODWILL ROAD. HE DIED ON JANUARY 17, 2023.
HE WAS THE HUSBAND OF JUDITH ELIZEE OF POINT MICHEL
HE WILL BE REMEMBERED BY HIS:
CHILDREN: FERDY, KELVIN, SHIRLEY, MARGARET, MARY, SAMAIRA & CURTIST ELIZEE, KELVIN TOUSSAINT AND DARYL BOBB
GRAND CHILDREN: KELISHA, SHANNEL, KIMON, MIKAEL, KELVIN JR ELIZEE, DELAYNE SIMPSON, SHANTEL WINSTON, TRICIA BRUNO, SHANNON CADETTE, MARKAZE AND ZIARA LAMOTHE, KHIYA AND KHYON JEAN-JACQUES, AND ABIGAIL AND DAINIA BOBB
GREAT GRAND CHILDREN: JAEL SIMPSON, Z'HAIRE AND Z'HIEM ELIZEE, JEQUAN WINSTON, ELIAKIM AND KENAI DURAND
ADOPTED DAUGHTER: CHERYL AMANTRADING IN AMERICA
SISTERS: FRAZIA ELIZEE IN GRANDBAY AND ZENA CHARLES IN ENGLAND
SISTER IN LAW: MARY ELIZEE
SON IN LAW: DANIEL ST. ROSE AND DAVE NICHOLAS
DAUGHTER IN-LAW: LUCIA ELIZEE
MANY NIECES & NEPHEWS INCLUDE: HELEN, MARTIN AND CLAUDIUS DANGLEBEN, ANGELINA, MICHEL AND ALBERTINE ELIZEE, MICHEL ROBERTS, HELEN GIRAUDEL AND GEORGE BARON OF GRANDBAY
IN-LAWS: FERDINAND, LOVERTY, ROSIE, VALENTINE JOHN AND CHARLES TOUSSAINT
CLOSE FRIENDS & RELATIVES INCLUDING: OLIVIA PRINCE AND RENETTE ESPRIT WEBSTAR SHILLINGFORD, NEIGHBORS AND THE JAMES FAMILY OF 7 GOODWILL ROAD.
MANY OTHER RELATIVES BOTH HERE AND ABROAD TOO NUMEROUS TO MENTION.
THE BODY OF THE LATE GEORGE REUBEN ELIZEE WILL BE VIEWED FROM 2:30PM ON FEBRUARY 6TH 2023 AT THE ST. GERARD'S HALL OF THE ROMAN CATHOLIC CHURCH
THE FUNERAL SERVICE TAKES PLACE AT 3PM AND WILL BE FOLLOWED BY INTERMENT @ THE ROMAN CATHOLIC CEMETERY
FUNERAL ARRANGEMENTS ENTRUSTED TO GENTLE REST FUNERAL SERVICE INc.