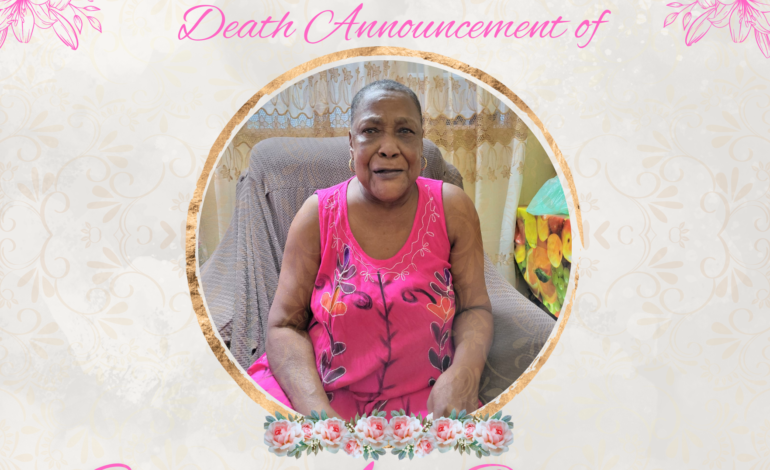 We sadly announce the death of Gilberta Avril Desbonnes, better known as Monica or Monoy; age 77 of Lagoon Portsmouth. She died on January 30th, at her residence. She was a former employee at Portsmouth Hospital and a member of NEFA. She is survived by:
Her children; Charmine in the USA, Devin in England, Hedda in BVI, Deverline & Petroline in Dominica.
Adopted son Casmore Panthier
Grand children: Ishmael, Anthony, Devicia, Dermar, Corinne, Persha, Tristan, Kimani, Babara, Bernstine, Aritha, Phillip, Avin, Delvin, Alice, Dernel, Kyron, Shana, Cleve, Clyde, Clevia and Ishma.
Greatgrand children : Shaisha, Aiden, Zadien, Rasheem, Raevyn, Aliandra, Angel, Kim, Nazair, Heiro, Amari, Yadier, Christon, Kyran ,Kamran, Kaydiah, Keira,
Sisters…… Norrissa and Retinella
Brothers…. Nicholas , Mervin, Trafmore and Lennox
Nieces….. Heathline, Jernel, Julia, Nikita, Nisha, Nyla, Esther, Cassian, Naomi and Makayla
Nephews…… Joel, Jovan, Joseph, Augustus, Collis, Nickroy and Nick
Daughter in-law… Heather Desbonnes
Brother in-law…… John Peter
Son-in-law…Clive Tavernier
Granddaughter –in-law……Erica Solomon
Grand son-in-law……. Jason Grant
Godchildren….. Morrison Andrew, Eddie Thomas, Iona Joseph
Close relatives and friends: Burton, Hernicia, Ms. Pat, Management of Rudolph Thomas & Sons, Mr & Mrs Chesney, Leah, Summer, Awlette, Ma Julian, Linda, Alice, Zillia, Tiki, Daphne, Zabet, Toetoe, Percyous, Norma Azille & family, Ma Edward & family, Patrick & family, Myrus & family, Nathalie Sabin, Monique , Millie & family, Victoria Matthew & family, Sister Valarie , Sister Hypolite, Theodora Prince, Claudette, Felinna, Jeff & Nadia Frank, Laurencia, Martina, Edward, the Desbonnes, Aaron, Stewart, Pierre-Louis, Laville, Duverney, Hyacinth, and Alexis families of Lagoon Portsmouth. Hon. Roland Royer, Reginald Austrie, Nurses and doctors of RFA Hospital, Dr. Andrew, Dr. James, Fr. Elveau, Fr. Martin, Fr. Callistus, Portsmouth Legion of Mary group, the community of Lagoon, many other relatives and friends, both here and abroad, names too numerous to mention.
The funeral of the late Gilberta Monica Desbonnes, will take place on Saturday 18th March, at the Portsmouth Catholic Church. Viewing at 12 pm and funeral mass at 12:30pm. Interment at the Portsmouth Catholic Church cemetery.