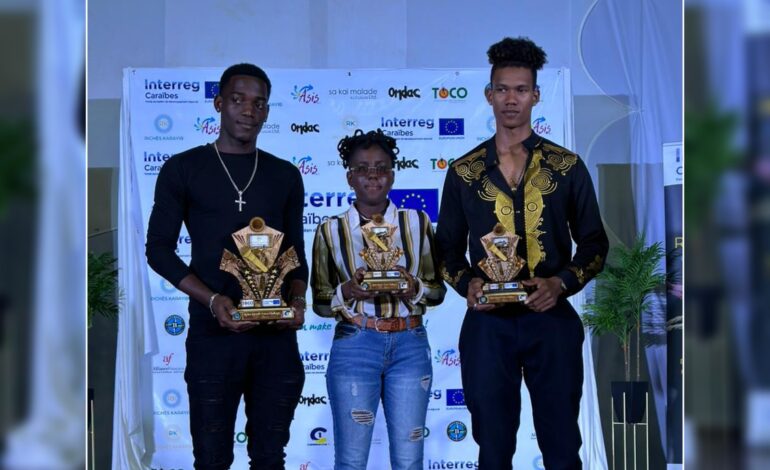 Dominica will be among ten islands participating in the Richès Karayib Voices Song Competition which will be held on each individual island culminating in the final competition in October.
The Competition is one of the key activities of Richès Karayib, a regional project led by ASIS WI and OMDAC of Martinique and Sa Kai Malade Karaibe Ltd (Creole Heartbeat) headed by popular radio announcer, DJ and promoter Leroy Wadix Charles.
Last weekend the song competition was held in St.Lucia with Donaton Legend emerging the winner. Project coordinator,
Sabrina Ajax, said that in addition to the song contest, the project will also focus on a cultural event centered around a particular theme. In St. Lucia, the theme was 'Remembering Our Culture: It Takes A Village'. In addition to the song contest, there was a conference with persons who spoke about agriculture, fishing and the sustainable development of the island.
Milia Denis Joseph who represented Sa Kai Malade Caraibe/Creole Heartbeat at the event in St.Lucia said that the project is aimed at promoting the uniqueness of Caribbean islands. She noted that she was grateful for the opportunity to attend the Richès Karayib events in St.Lucia and looks forward to the events planned for Dominica.
The song competition will make its way to Dominica in July to coincide with Cadence -lypso Month. A Richès Karayib forum on music is also scheduled for that month . Individuals who wish to participate in the Richès Karayib Voices Challenge may begin composing their songs  for the competition.
The winners from each island will gather in Martinique in August to perform at the Grande Finale of the song contest. They will also participate in a workshop named "The Business of Music" which will feature international music executives. In addition, a music album comprising the winning song from each island will be produced.