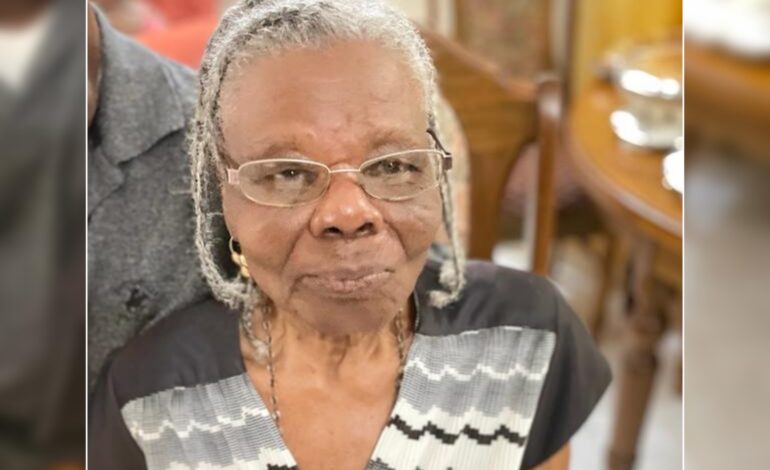 We would like to announce the passing of our beloved Paulina Blaize better known as Popole age 92, of Barlizier in Laplaine. She passed peacefully at the Dominica China Friendship Hospital on Wednesday, November 16, 2022.
She leaves to Mourn:
Children: Roslyn Julietta Evans, Irving & Norwills Blaize
Adopted Children: St Claire Williams & Andy Cuffy
Grand Children: De-Anna Evans, Nadege, Trentan, Nathan, & Abbygail Blaize
Daughter in law: Sherry-Ann Blaize
Sons in law: Boydy Evans, & Arlington Gallion
Nieces : Melanie, Ruth, Gracie, & Evaline
Nephews: Antonely & Sobers Prosper, Grancier Fontaine, Kelvin, Clovel
David and others too numerous to mention
Many Grand nieces and nephews including Curvelle David
Other Relatives: Beryl Newton and family, Ted Cuffy, Ray Williams, The Blaize
Family and others too numerous to mention.
Friends: Mrs Hugh Thomas, Ivy, Mr & Mrs Ronald Green, Fr Esprit, Pastor Abel, Pastor Silvery, Fatty, Kendal. Mr & Mrs Peter Matthew, Ezekiel, Helen, Lloyd Pascal, Mariette & Family, Eunice Andrew, Ethlyne Horsford, Marvlyn Emmanuel & Family, Laplaine Health team, The doctors & staff of Glover ward, neighbors & other friends in the village too numerous to mention.
Thanksgiving Service in Celebration of the life of Paulina Blaize will be held Saturday December 3, 2022, at the Laplaine Catholic Church. Viewing will be from 2pm and funeral service will begin at 2:30pm.
Interment at the Laplaine Catholic Cemetery.