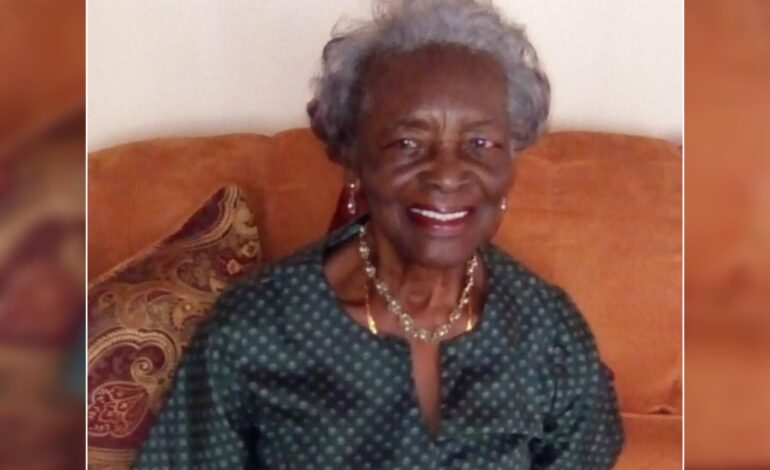 IT IS WITH SADNESS, WE ANNOUNCE THE DEATH OF MRS EUDORA SHAW OF GOODWILL, THE WIFE OF THE LATE VERNON SHAW, FORMER PRESIDENT OF THE COMMONWEALTH OF DOMINICA 1998-2003.
SHE DIED ON TUESDAY 28TH FEBRUARY 2023 AT THE AGE OF 91.
SHE LEAVES TO MOURN:
HER CHILDREN: VERLIE SHAW-JOSEPH, ALIX DORSETT, BERNARD (IMANI) SHAW, ALFRED (BOBBY) SHAW
HER GRANDCHILDREN: WENHAM JR AND WYLAN DORSETT; MAWUSI, IMMANUEL, NAFKOTE AND KAWAIDA SHAW; BRIANNA THOMAS-SHAW. SHE WAS PREDECEASED BY ZARA SHAW.
8 GREAT GRANDCHILDREN
SONS-IN –LAW: MICKEY JOSEPH, WENHAM DORSETT
GRANDDAUGHTERS – IN-LAW: CHARLENE DORSETT, DOMINIQUE DORSETT
BROTHER-IN-LAW: ROY MCCOLMAN
OTHER IN LAWS: THE SHAW FAMILY
HONORARY CHILDREN: SAMUEL LUCKIE, SIMPLICE FOKO, KERTIST AUGUSTUS JR., JOANNE YARDE
SIBLINGS: CHRISTINE WHITE, BERNICE SEBASTIAN, HUMIE PRINGLE AND ALTHEA ROGERS.
SEVERAL NIECES AND NEPHEWS INCLUDING GRETA SHILLINGFORD, GLENDA CRUICSHANK, ROSEMOND ROSSI, MAVIS ETTIENNE, PATSY WHARWOOD, WENDY CHRISTMAS, DAWN MCCOLMAN, MONIQUE MARTHOL, PAMELA BELLOT BARON, FRANCES BELLOT, CLOTILDIS BELLOT, OTHER CHILDREN OF THE LATE ISADORA BELLOT, MARGARET SEAMAN-RABESS AND THEIR FAMILIES.
COUSINS BRADLEY HECTOR, REGGIE HECTOR, REV DR. WILLIAM WATTY, VICTORIA WATTY, PHYLLIS PASCAL, DR IRVIN EIPIGH PASCAL, HUBERT CHARLES, HELEN CHARLES, LARKLAND RICHARDS, CLARITA RICHARDS AND THEIR FAMILIES, THE WATTYS, THE CONNORS, THE HECTORS AND THE CHILDREN OF THE LATE ROSALIND COLAIRE.
GOD DAUGHTER: CORLISS JOSEPHS-CONWAY
HER DOCTORS: PORTIA MEADE, RUBY BLANC AND GEOFFREY LAFOND
CAREGIVERS: VANESSA CLARKE BLANC, NATLEY BARDOUILLE, DARLENE DUVERNEY, CASSANDRA LEWIS, AVANELLE LAZARE
DEAR FRIENDS INCLUDING RUBY BREWSTER, ROSEMARIE LOCKHART, RITA RIVIERE, FLOSSIE JOSEPH, SHIRLEY AND GEORGE RICHARDS, GEORGINA LIBURD, JEAN JACOB, JUDITH PESTAINA, CELIA AND HORSFORD NICHOLAS, SONIA AND HILARION AKPA, JENNIFER WHITE, JULIET AND JOHN LEWIS,
CATHERINE AND JOFFRE FAUSTIN, JOSEPHINE ROBINSON, LUCY-ANN WILLIAMS, REV MORNA CHRISTMAS-FRAZER, DRS GRIFFIN AND LYRIS BENJAMIN, DR ROBERT AND PAT NASIIRO, ROMAULDA AND STEVE HYACINTH, STEVE LEWIS, OCTALYN MUSGRAVE, LISA LEWIS ARRI, THE JOSLYNS AND CAMILLE CHRICTON OF ST VINCENT AND OTHERS TOO NUMEROUS TO MENTION.
THE NEIGHBOURS OF CHURCHILL LANE GOODWILL.
THE BETHESDA METHODIST CONGREGATION.
THE BODY OF THE LATE EUDORA SHAW CAN BE VIEWED AT 10 A.M. AND FUNERAL SERVICE TAKES PLACE AT 10.30 A.M. ON FRIDAY 24TH MARCH 2023 AT THE BETHESDA METHODIST CHURCH, ROSEAU. INTERMENT AT THE MOUNT WALLIS METHODIST CHURCH CEMETERY PORTSMOUTH
FUNERAL ARRANGEMENTS ENTRUSTED TO GENTLE REST FUNERAL SERVICE INC.