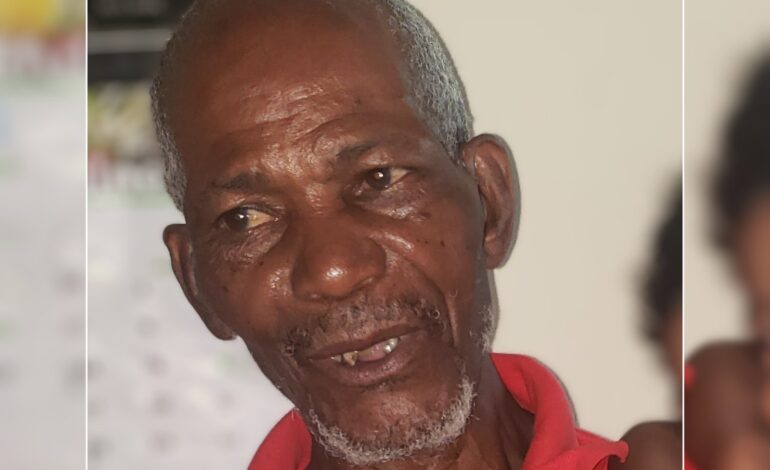 We sadly announce the death of Elick St. Hilaire, also known as Ninick , age 83 of Case O Gowrie La Plaine. He died on January 10th at the DCFH.
He will be fondly remembered by:
His sisters: Emma Rodney and Elmina Cuffy.
Nieces:
Beverly Baron, Vanya Eloi, Mena Grant, Laurel Moreau, Emerald Etienne, AnnMarie Ferriera, Pearl Joseph, Rose Claire Dechausay, Marcia Rodney, Goldina Cuffy, Prista Coleby, Anastasie, Rhylla, Phaedra and Nicola St. Hilaire, Shirley and Bernadette Havre.
Nephews:
Stanley, Augustin, Griffin, Rolston, Anderson, Phil, Valentine, Merlin and Keith St. Hilaire, Phillip Rodney and Hiver Emmanuel.
Aunt: Clotilda Doctrove.
God Children: Randolph Laudat, Magdalene Nelson, Josephine James and Adrinette Winston.
Brother in law: Michael Rodney
Many grand nieces and nephews including Shane, Troy, Gem , Amy, Greg, Sherry , Melissa , Charles, Hon. Fidel Grant, Keisha ,Zeth , Jace ,Danelle , Kayma, Kerelle a Kaleo , Arielle, Janaya , Fernella, Anston ,Dorian, Stan, Curvin, Alma, Arlena, Aretha, Gabrielle, Malia, Gianni, Jael, Liam, Keve, Amaya, Isla, Sinjhin, Nephy, Matthew, Mendel, Mandisa, Aiyanna, Aliyah, Elijah, Anjali, Ajani, Savannah, Tristan, Tyler, Ian, Tyrone, Kerry, Kurt and Kareem.
Many great grand nieces and nephews.
Close relatives including: Talipha Charles, Esther Hale, Vanty Alie, Vyleen and Rose Maximen, Bertillia St. Ville, Rosa Catin, John Jno Baptiste, Billy Doctrove, Linus Augustine and the Matthew and Felix families of Morne Jaune.
Close friends: Orlando Eloi, Lloyd Colaire, Anastasie Le Blanc, Mark Massicot, Jean Beaupierre , Alina Laudat, Augustus Letang, Ryhlie and Anora Attidore, Sandra and Carol Lawrence, Augustus Letang, Anthony John, Sharon and Liza Colaire,.
Other relatives and friends including the St. Hilaire, Laudat, Stedman, Colaire, Attidore families. The Augustine and St. Ville families of Delices. Others whose names are too numerous to mention. The communities of La Plaine, Riviere Cyrique, Morne Jaune and Delices.
The funeral mass for the late Elick St. Hilaire will take place on Saturday 21st January at the La Plaine Roman Catholic Church.
Viewing from 2:30
Mass at 3:00pm
Interment at La Plaine Catholic Cemetery.