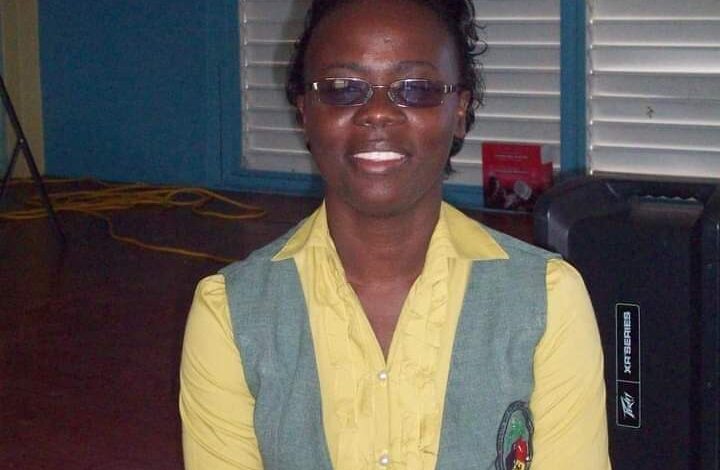 WE ANNOUNCE THE DEATH OF: THRISIA MORANCIE
BETTER KNOWN AS: "TRISH"
AGE: 46
OF: CAPITAL HILL, BARROUALLIE, ST. VINCENT WHO RESIDED IN DOMINICA
SHE WAS A MEMBER OF: THE SEVENTH-DAY ADVENTIST CHURCH AND A TEACHER AT THE ARTHUR WALDRON S.D.A. ACADEMY
SHE DIED ON SATURDAY 15th. OCTOBER 2022 AT HER RESIDENCE.
SHE WAS THE WIFE OF: Pastor Maurice Morancie
SHE WAS THE MOTHER OF: Darrel & Daenysia Morancie
SHE WILL ALSO BE REMEMBERED BY HER:
BROTHERS: Bopsin Gabriel; Alpha, Paul & Fenton Dickson
SISTERS: Gloria Gabriel & Alice Adams.
NIECES: Trisiel Gabriel-Ragguette, Tricheca, Trishnel, Natalie & Sache Gabriel and Isabel Baptiste.
NEPHEWS: Daron and Damien Hazell, Gidron Gabriel, Walton, Sandy & Jemaine Williams, Jequan Adams and Joshua Nero.
AUNTIES: Rhonda, Patty, Marva, Pamela, Denise, Hazel
UNCLES: Francis and Vibert.
MOTHER-IN-LAW: Lorna Blondel. 
FATHER-IN-LAW: David Morancie.
STEP-FATHER: Philson Adams
SISTERS-IN-LAW: Maria Sebastien, Lucy, Marcella, Jenefer and Soffie Morancie, Avril David and Winnifred Gabriel.
BROTHERS-IN-LAW: Tony & Delroy Sebastien, Sam and Marcus Morancie,
AUNT-IN-LAW: Mary Magdaline George in London.
UNCLE-IN-LAW: Francis Blondel
NIECE-IN-LAW: Ameeya George
CARETAKER: Viola Mills
Many close friends and relatives:
The funeral service for the late THRISHIA MORANCIE better known as "TRISH" will be held on SUNDAY 06th NOVEMBER AT THE ROSEAU S.D.A. CHURCH. TRIBUTES BEGIN AT 12:00PM