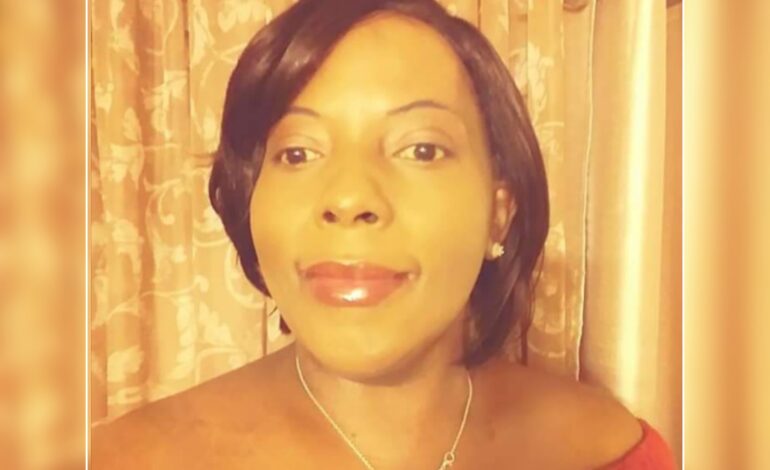 WE ANNOUNCE THE DEATH OF 41 YEAR OLD SACHA WEBSTER-SYLVESTER OF RIVER SIDE APARTMENTS, ROSEAU WHO RESIDED IN LARGO MARYLAND, UNITED STATES. SHE DIED ON 12TH JUNE, 2022 IN LARGON MARYLAND.
SHE LEFT TO MOURN:
HUSBAND: EMRAUN EDMUND SYLVESTER
MOTHER: MARILYN CLAUDETTE LOBLACK
FATHER: AUGUSTUS WEBSTER
SISTERS: TANICKA GALLAWAY AND AGNITA WEBSTER
BROTHERS: ALSTON AND CLEM WEBSTER, MARCUS AND ALLISTER WEBSTER (DECEASED)
GRANDMOTHER: URSULA WEBSTER
FATHER-IN-LAW: EDWARD SYLVESTER
GODMOTHER: AGNES ADONIS
AUNTS: MAGDALENE, VANYA, BRENDA, BEVERLY, RUTHINE, OPHELIA, LENA, MARTHA AND MELINA
UNCLES: EMANUEL, LEVI, ISHMAEL, CARL, LOFTUS, TONY, STEVE AND RENNICK
COUSINS TO MENTION A FEW: SHONNA, DONNA-MAE, KAMICA, KAMARA, PHILBERT, LUCIANO, OLIVIER, DURELLE, LIONEL, JAESHON, MALCOLM, PETER, MARCELINA, PAULA, YOLANDA, FERDINA, NATALIE, JANINE, ADAM, TALICA, MICHELLE, LESLIE, LILY, NATASHA, SHARON, AUGUSTUS, VANESSA, ANN, YOLANDA, ALTERMIS, MERLIN, JUNIOR, BJORN, LEANDRA AND EMMANUEL
CLOSE FAMILY AND FRIENDS INCLUDING: THE LOBLACK, MAXIME AND SANDY FAMILY, RIVERSIDE APARTMENTS FAMILY, AUDWIN HAMLET, MCCLEAN, SACHA FERROL, SELYNA, MCCLEAN, MR AND MRS DARYL TITRE, ANNYA, FERNELLA, MR AND MRS JEROME JULIEN, VALERIE, MRS ALTHEA LABAD, MICHEAL, NURSE SABOROACHE, LEANDRA, MYRTLE, JUDITH-ANNE ROLLE AND THE STAFF AT KAIRI AND DSBS RADIO
NUMEROUS NIECES AND NEPHEWS
OTHER RELATIVES AND FRIENDS TOO NUMEROUS TO MENTION.
THE FUNERAL SERVICE TAKES PLACE AT 2:00 P.M. AT THE NEW DAY FELLOWSHIP AND DELIVERANCE MINISTRIES ON TUESDAY 1st, NOVEMBER, 2022.
FOLLOWED BY THE BURIAL OF ASHES AT THE ROSEAU PUBLIC CEMETERY
In remembrance of Sacha, the family asks all in attendance to wear something pink