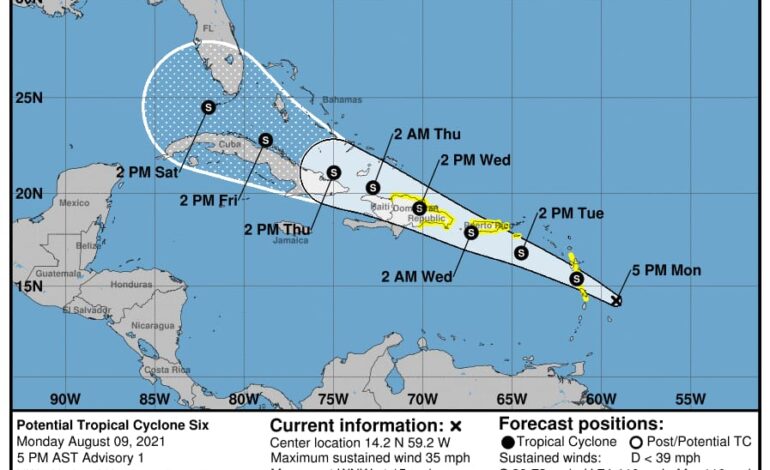 BULLETIN # 1 issued at 5:00 PM, Monday 9th August 2021
TROPICAL STORM WATCH IS NOW IN EFFECT FOR DOMINICA
Sustained tropical storm force winds are possible across Dominica tonight
Issued: Monday August 9th, 2021 at 5pm
At 5pm Potential Tropical Cyclone #6 was located near 14.2N, 59.2W, about 165 miles or 260 km east southeast of Dominica.
Movement towards west northwestward at 15mph or 24km/h.
Maximum sustained winds near 35mph/ 55km/h with higher gusts.
The system is on track to move near to or over Dominica tonight and could become a tropical storm tonight.
EXPECTED CONDITIONS
· Winds gusting to near tropical storm force that is, 74kmh or 46mph
· Rainfall amounts of 100mm to 150mm (4in to 6in) in moderate to heavy showers and thunderstorms
· Waves up to 3.0m or 10.0ft along the eastern and southern coasts
EXPECTED IMPACTS
· Rivers, streams, gutters and ravines can overflow their banks and flood surrounding areas
· Landslides and rock falls from overhanging cliffs due to intense rainfall
· Rough seas will be hazardous for sea-bathers, small-craft operators and people living near to or traversing coastal areas.
· Loose objects will become missiles in gusty winds and shallow rooted trees can fall
A Flash Flood Warning will be in effect from 6pm.
A Small Craft Warning and High Surf Advisory will be in effect from 6pm.
Finalize all measures to protect life and property before nightfall. The Dominica Meteorological Service will continue to provide updates as necessary.
The next Bulletin will be issued by the Meteorological Service at 8pm.