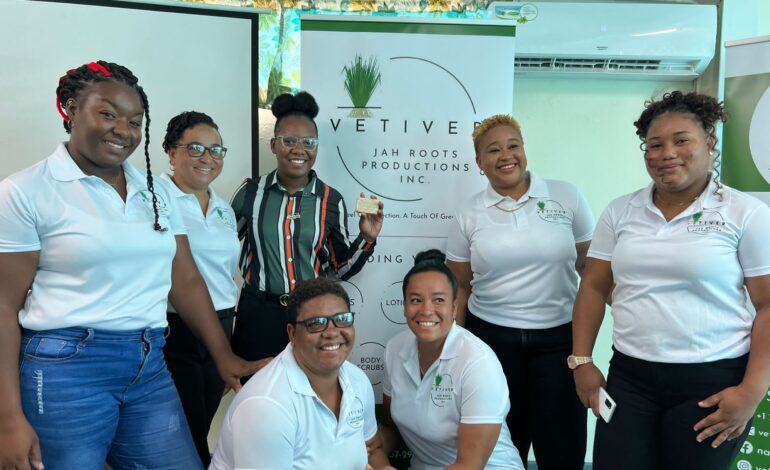 The EbA nature-based solution focus, i.e., using vetiver grass, integrated into Climate Smart
Agriculture (CSA) and Good Agriculture practices (GAP), is in response to the vulnerability of sensitive
upland locations to soil erosion, compromising the downstream marine environment.
The project recognizes that there is no practical intervention that can stop natural hazards, or their
intensity due to climate change. However, certain non-climate stressors are worsening the ability of
eco-systems to withstand and recover quickly from extreme weather events and natural hazards. Chief
among these non-climate stressors is poor land use in upland areas, including poor farming practices
on hillsides/slopes, land clearing for roads, buildings and other infrastructure and diversion of water
courses.
These disrupt the inherent resilience of ecosystems which result in slope failure and soil erosion, and
ultimately heavy sedimentation and siltation of the coastal and marine environment. Degradation of
land in upland regions also compromises productive farming, and ultimately food production. These
impacts also erode quality of life, disrupt livelihoods and claim lives.
The Project Goal was to "strengthen ecosystem services in upland-coastal environments for improving
coastal climate resilience while increasing sustainable livelihood opportunities in communities". The
specific objectives were to:
a) build technical and social capacity of communities/farmers to rehabilitate upland & downstream
ecosystems by implementing EbA-climate smart solutions (CSS)
b) strengthen existing livelihood opportunities and generate alternatives based on the
implementation of EbA-CSS interventions
c) disseminate climate smart approaches using innovative educational and M&E tools and new media
to promote wider interest and uptake of EbA and climate risk reduction strategies; and especially widespread 'common knowledge' of vetiver grass as a nature-based EbA tool 'available to all'.
The IICA-CBF EbA project in Antigua, Dominica, St. Lucia and Tobago is coming to a close on 15
September 2023. Collaborators and beneficiaries involved in implementation gathered in July in
Dominica to exchange experiences and lessons learned with respect to the overall objective of this
project.
The Green Business Launching Ceremony
One of the goals of the project was to provide support for the formation of 2 independent or 1
integrated green business entity. As part of the Green Business Development Support initiative, three
vetiver-based green business entities were established and registered.
Vetiver Jah Roots Productions Inc – Bath & Body Works Production
Nature's Vetiver Nursery Inc. – Vetiver Plant Nursery
Vetiver Green Business Solutions Inc. – Vetiver Installation Professionals