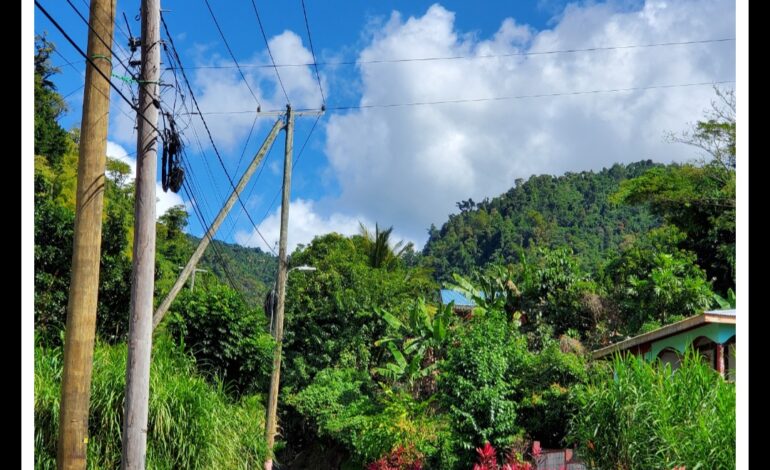 ROSEAU, Dominica- May 11, 2022: The Independent Regulatory Commission (IRC) has sought to address the removal of unsafe utility poles owned by the Dominica Electricity Services
DOMLEC) Limited.
DOMLEC has Pole Sharing Agreements with both telecommunication providers, which allow the electricity provider to lease its pole for a specific period to enable FLOW and Digicel to deliver their services to customers.
In his remarks at a news conference on Tuesday, May 10, 2022, Executive Director of the IRC, Justinn Kase said DOMLEC is expected to coordinate with FLOW and Digicel to ensure their electrical hardware is transferred or removed from an old pole, when DOMLEC installs a new pole.
"This means that the onus is on DOMLEC as the licensee to ensure that these unsafe poles are safely removed and disposed of. "Consequently, the issue is that when DOMLEC transfers its hardware onto a new pole after determining that the previous pole is unsafe and has deteriorated to the point that it is no longer useful; the telecommunication providers' hardware stays on the old pole. Therefore, making it very difficult to have the old pole removed."
Kase said that DOMLEC should adhere to its own Pole Sharing Agreement. "Furthermore, upon close inspection of DOMLEC's Pole Sharing Agreement it was identified that DOMLEC does not honor the clause in their agreement for the legal transfer of ownership to the telecom utilities. This means that DOMLEC still owns the asset and is still fully responsible for its removal and disposal; and DOMLEC still has these unsafe poles on its asset register," he explained.
The Commission wrote to DOMLEC formally on the matter in December 2018 upon the appointment of Mr. Kase as its executive director. Another letter on December 18, 2020, requested that DOMLEC take action to adhere to the Pole Sharing Agreement. The Executive Director had requested an update from DOMLEC on its unsafe pole removal in a letter dated March 17, 2021.
The Commission also wrote to management of FLOW and Digicel in 2020 seeking their cooperation to remove their hardware from DOMLEC's old poles. In 2021, Digicel's chief executive officer informed IRC that the company transferred 70 percent of its hardware to new poles owned by DOMLEC. Another letter was sent to FLOW's management in April 2021 to request an update on their role in removing their hardware on old poles. Mr. Kase noted Digicel has been cooperative.
The Commission conducts periodic audits of DOMLEC's assets to ensure the company is providing an efficient service to electricity consumers. Financial Analyst Connie Joseph-Louis is IRC's key expert involved in that activity. She said DOMLEC is not solely to blame for the existence of old poles. However, she added that at the final analysis the old pole is considered a DOMLEC asset, even after it has transferred its hardware to a new pole. Issuing an administrative order to DOMLEC is the next course of action to get the electricity provider to address the matter.