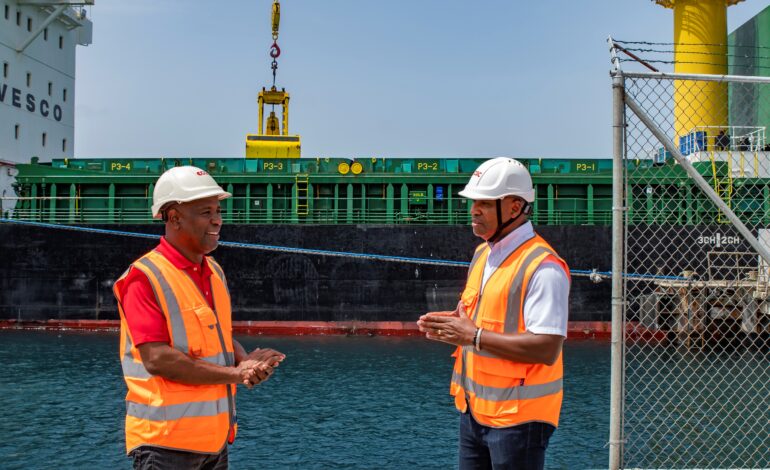 October 20, 2022 – Campden Park St Vincent – The largest ever grains shipment was offloaded in St Vincent & the Grenadines this week in an effort to continue to create reliable supply and stable price in the marketplace. As part of its ongoing transformation and the pursuit of Plant Excellence and Commercial Agility, ECGC, the East Caribbean Group of Companies anchored a 13,000 MT capacity vessel, MV SIDER TYRONA, at its Campden Park dock, carrying a shipment of Wheat, Soya, and Corn, which is a 34% increase over the company's last shipment, this past June.
ECGC CEO, J. Robert Cato said, "We have made a promise to our business and our customers that we will be the most reliable supplier in the OECS. This increase in grain shipment size represents a shift in how we plan and execute our grain procurement strategy to support supply assurance. We are purchasing with a higher level of market intelligence, sound trading advice based on superior analytics, and an intense focus on the commodities markets."
ECGC employs hedging in grain futures, where the company buys forward to ensure that it covers the most favorable grain prices available for its production needs. This offers the company some protection in the eventuality of market spikes and cost changes, as prices are locked in previously.
Cato said, "To be the most reliable supplier of Flour, Feeds and Rice in the OECS, we continue working at getting two things right, supply chain reliability and storage capacity, so simultaneously we are investing in larger grain storage capacity at our plants. More storage capacity means we can take bigger ships, and bigger ships mean that we save on freight cost, ultimately this creates a better price for customers"
This latest purchase guarantees that ECGC will be able to maintain steady supply and cost efficiencies, allowing the largest supplier of flour in the OECS subregion to maintain price stability on Flour and Animal Feeds to its customers. For every Wheat vessel arrival, the value of the grain cargo can be as much as EC$15M.
ECGC sources the highest quality wheat available from Kansas in the USA, which travels across the USA by rail down to Louisiana and is then shipped to ECGC's dock facilities in Campden Park.
About ECGC: Founded in 1977, ECGC is a Caribbean grown company headquartered in St. Vincent & the Grenadines. ECGC operates flour mills, feed mills, rice distribution and beverage manufacturing plants. ECGC exports Grains & Beverages brands to the OECS, the wider Caribbean and the World.