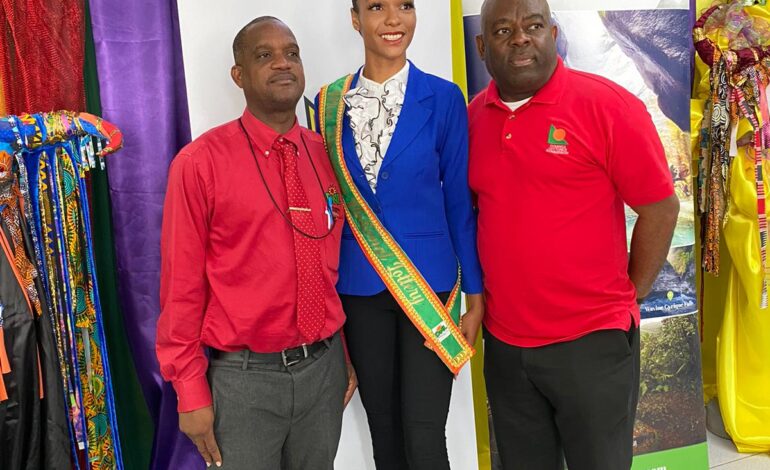 The Dominica National Lottery(DNL) Commission and Petrocaribe has come on board and officially sponsored two contestants in the Miss Dominica Pageant.
Moesha Tanisha Thomas of Petite Soufriere is Miss DNL while Adicia Burton of the Kalinago Territory is Miss Petrocaribe.
Deputy Chairman of the DNL, Franklin Fabien said that the commission is pleased to sponsor the young and talented Miss Thomas. He said that this sponsorship is in keeping with the commission's mandate to promote and develop sports and culture in Dominica.
He said, "We are encouraged to know that her platform is centered around sports development and the recognition of the importance of sports in personality development".
Thomas said that her collaboration with the DNL is a perfect one as the DNL has a history of supporting sporting and cultural events on island.
She said, "I express my immense gratitude to the commission for their sponsorship and today I fortify my belief in the statement, everything is possible".
Meanwhile, Tamika Chambers of Petrocaribe said that they have noticed that Miss Burton is a very determined, intelligent and ambitious individual who knows what she wants. Thus the company is very pleased with their sponsorship of Miss Burton who they expect to make them very proud. She thanked the customers who have continued to patronize the company over the years.
In her response, Burton said that her Kalinago name means flexible which was given to her because of her well balanced nature and ability to adapt to every situation. She spoke about her participation in education, sports and culture in her community and assured her sponsor that they have gained a competent partner to make them proud.
She said, "I would like to begin by kindly thanking Petrocaribe for coming on board as my official sponsor. I am extremely grateful to them for their partnership as my participation in this year's pageant would be much more difficult without their support". All five contestants in this year's pageant have received sponsorship. The pageant will take place on February 16, 2023.