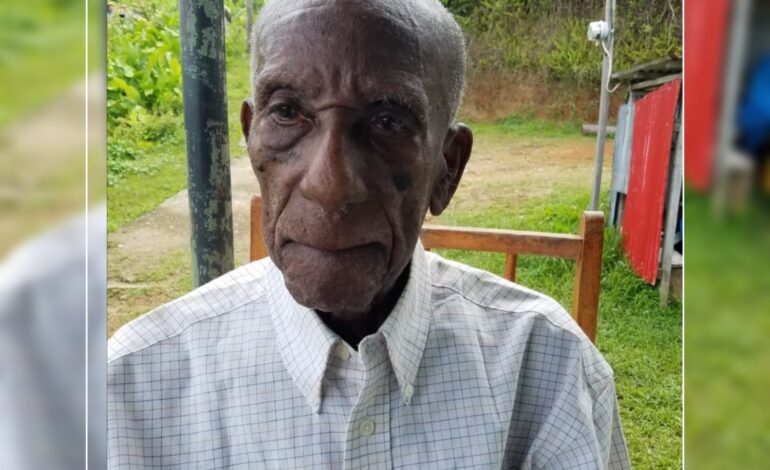 We announce the death of 95 year old  Lennard Leonard Lawrence also known as Kaiyo of Riviere Cyrique.  He died on 19th December 2022 at the Dominica China Friendship Hospital.
Leaves to Mourn:
Sons: Eustace, Phillip, Nicodemus Lawrence in Dominica and Tobias Lawrence residing in Florida USA
Daughters: Clautilda Tabor in Guadeloupe, Noralyn Lawrence in St. Maarten, Ginetta Agatha Lawrence in Dominica, Stepdaughter Hildreth Sinclair in London
24 Grand Children
60 Great Grand Children
10 Great Great Grand Children
Nephews: Franklin Lawrence, Jeff Felix
Niece: Cerilla Toussaint, Decima Joseph, Jemma Saint-Jean
Daughters in Law: Margaret Lawrence in Guadeloupe , Elaine Lawrence in Florida USA
Numerous nieces and nephews both in Dominica and abroad too numerous to mention
Godchildren: Bernard Matthew  & Jane Cuffy
Close friends: Harry Vigilant, Linworth Cuffy
The Felix family from More Jaune, the Lawrence family from Riviere Cyrique, Grand Fond, Loubiere, LaPlaine and Delices. The Cuffy and Abraham families from Riviere Cyrique
Neighbors and church family in Riviere Cyrique.
The body of the late Lennard Leonard Lawrence also known as Kaiyo will be transported from Lyndhurst Funeral Home for viewing at 1:30pm at the Morne Jaune Catholic Church on Friday January 6, 2023. Funeral Mass begins at 2:00pm followed by interment at a private burial ground in La'Crete.