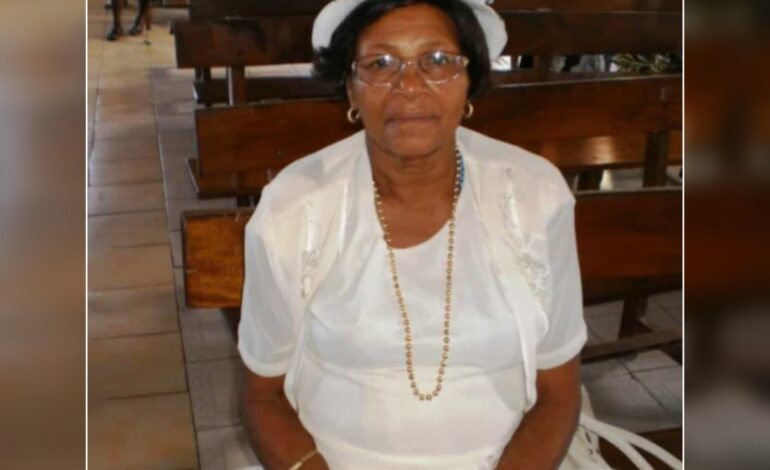 We announce the death of 89 year old THERESA ETIENNE-JEAN also known as Linda or Ma Linda of Penville. She died on the 4th day of January 2023 at her residence.
She is survived by:
10 CHILDREN : Allana Alexander-Pierre, Nurse Helen Jean-Gilbert, Marina, Lincoln, Feyo, Derrick, Kenrick, Jullian, Dezie, and Kiethroy Jean.
28 GRAND CHILDREN: Micheal Sebastian (Assistant Superintendent of the Commonwealth of Dominica Police Force ) , Linton , Linny and Lennox Pierre (Senior Port Officer), Dianne and Wendy Greenaway, Kamasha Lloyd, Kenroy, shannella, Keithroy JR., Kenny, Ryan, Kadeema, Kerbian Delandra, Derrickson, Derina, Karishna, Dennick, Nikisha, Liandra, Alisha, Delon, Nimron, Jaydian, Jaydisha, V-Jay and Jace Jean.
16 GREAT GRAND CHILDREN: Caver, Terissa and Nathan Sebastian, Keldon, Aria and Abie Pierre, Kayyel Gilbert, Jaquan and Zayn Lloyd, Vivica and Grace Greenaway, Quamie Thomas, Kayden, Nikia, Sirai, Emani, Nayelee and Kierah Jean.
1 GREAT GREAT GRAND CHILD: Briella
4 ADOPTED CHILDREN: Eulalie, Arthur, Winifred and Johnson Laville
4 ADOPTED GRAND CHILDREN: Jasmine and Linchie in St Maarten, Johnsia and Joania Laville
4 SISTERS : Jaynette, Eunelis, Veronica Paul and Martha Seaman
2 ADOPTED SISTERS : Marie Jean-Jacque and Agnes Augustine
3 BROTHERS: Godfrey Etienne, Venant and Aubin Carbon
DAUGHTERS IN LAW : Mary, Karen, Marthine and Sandra Jean
SONS IN LAW : Elroy Toussaint and Fabian Gilbert
GRANDSON IN LAW: Jeffery Lloyd
GRAND DAUGHTER IN LAW : Hannah Pierre
SISTER IN LAW: Maria Etienne
4 BROTHERS IN LAW INCLUDING : Reynold Jean and Conrad Royer
MANY NIECES INCLUDING: Sheryl, Valina, Bernicia, Melicia and Marie-Therese Etienne. Heather, Brenda and Jessica Jno Baptiste,  Tazie and Magdalene Leblanc.
NEPHEWS INCLUDING: Pato and Raymond Thomas, Avis and Gifford Carbon, Charlesworth, Alsmith and Clem Etienne.
CLOSE FRIENDS AND RELATIVES INCLUDING: Honourable Prime Minister Roosevelt Skerrit, Olive George, Maureen Laville, Carmen Seaman, Nora Anatol, Jane Etienne, Cassandra Harris, Laurel Thomas, Kimasha, Liezar Dawn, Morella, Emaphine, Jerry, Nurse Anne Laville, Rozie Bazille, Ian, Vendors of the Portsmouth Market, the Etienne, Jean, Laville, Sylvaine and Marcellin families, the ntire communities of Penville, Vieille Case, Thibaud, Paix-Bouche and Portsmouth. Many other relatives and friends too numerous to mention.
The viewing of the body of the Late Theresa Etienne-Jean will take place from 2:00pm on Saturday January 14th 2023 at the Vieille Case Roman Catholic Church. The Funeral Mass will commence at 2:30pm followed by internment at the Vieillle Case Roman Catholic Cemetery.
Funeral arrangements are entrusted to the Gentle Rest Funeral Service.