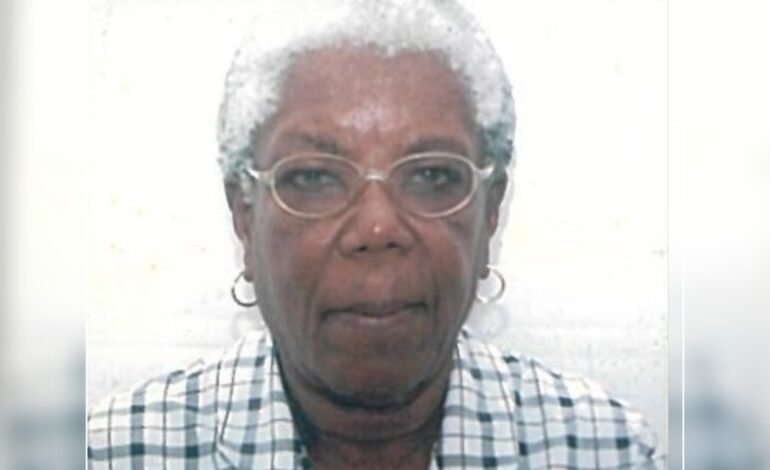 We announce the death of 89 year old Phyllis Boyd of Loubiere. She died on 11th October 2022 at the Dominica China Friendship Hospital.
She left to mourn:
Sister: Rumain Simon
Brother in law: Billy Simon
Nieces: Annabella Delauney, Cornelia and Icela Peter, Cornie St. Hilaire and Caryle Jno. Baptiste
Nephews: Hubert, Calvin and Wilbert Peter, Presley and Simon Boyd
Grandnieces: Hazel-Ann Winston, Hilma, Hiltonia, Chardeen, Joann, Niomie, Monica, Mahalia, Marika Peter, Alma and Aretha St. Hilaire, Terrisa, Sheralyn and Shari Boyd, Nicole Giraudel
Grandnephews: Jude and James Delauney, Bradley, Brian, Sheldon, Hubert Jr, Yannick, Kyran, Kevin, Hilroy, Dane and Dwight Peter, Albert Jno. Baptiste, Jerry Boyd and Kohnel Prince
Close Friends: Miss Webb, Janet and Maria Riviere, Josephine Ismael, Patsy Harigan, Julie Delsol, Sandra, Edmond, Kent Lawrence, Mr and Mrs Alcid Joseph, Claude Bougouneau, Duncan Davis, Preston Olive, Rufus Simon and family, Eva and Kelvin Francis
Close Cousins: Bertin Leblanc, Hannah Mendes, Phyllis, Washborne, Lynworth, Theodile, Mary-lyn and Berty Cuffy
Godchild: Alix Joseph
The Royer, Cuffy, Simon and Boyd Families.
The body of the late Phyllis Boyd will be transported from Lyndhurst Funeral Home for viewing at 9:30am on Saturday, 22nd October at Our Lady of Fatima Catholic Church. Funeral Mass begins at 10:00am followed by interment at the Roseau Catholic Cemetery.