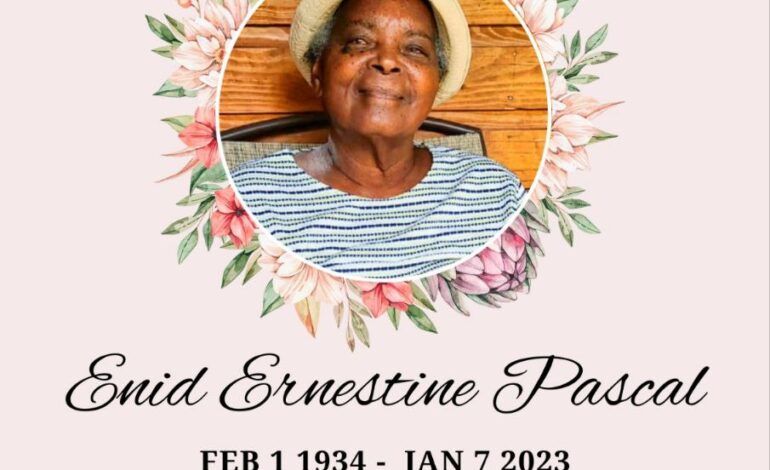 We announce the death of 88-year-old ENID PASCAL also known as Ma Pierre of Laplaine. She died on the 7th day of January 2023 at her residence.
She is survived by:
2 CHILDREN: Timothy and Derick Pascal.
5 GRANDCHILDREN: Natasha, Timmy, and Jamila Pascal, Joshua and Dwight Pascal residing in England
3 GREAT GRANDCHILDREN: Akeem & Shaqueel Africa, Amora Pascal
DAUGHTERS IN LAW: Francisca Pascal and Deborah Underwood-Pascal
SISTERS IN LAW: Agnes Lestrade, Ruth Jean-Jacques residing in England, Nathalie Raphael
NIECES INCLUDING: Liz Mingo residing in England, Joyce Jno. Baptiste, Samantha, Marva, Magdalene, Janice, Lisa Jean-Jacques, Rose & Jessica Violenes
NEPHEWS INCLUDING: Joshua & Jean Etienne, Anthony, Trevor, Patrick & Hubert Jean-Jacques, Owen
GODCHILDREN: Eddie Beaupierre, Primrose, Ivenia, Marvlyn Edwards, Sylvester Mitchel, Steve Stedman, Franklyn Lestrade
CLOSE FRIENDS, AND NEIGHBORS INCLUDING: Martha Joseph of Balizier, Hannah Rodney and family, Vernan Prosper and family, Pamela and Lucille Fontaine & family,
Rose Martin, Jenny Germaine, Caregivers: Marvlyn, Leonie, Melanie, Olivia, the team of the LaPlaine Health Centre and the community of Laplaine. Many other relatives and friends too numerous to mention.
The viewing of the body of the late Enid Pascal will take place from 1:00pm on February 2nd 2023 at the Laplaine Catholic Church. The Funeral Mass will commence at 2:00 pm followed by interment at the Laplaine Catholic Cemetery.