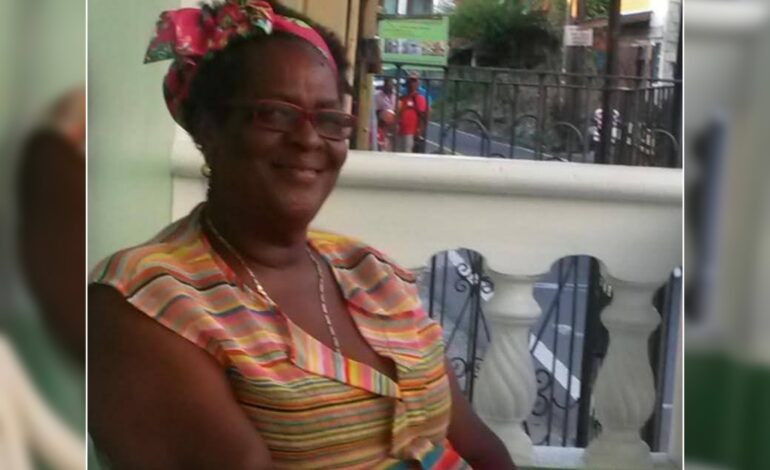 We would like to announced the passing of our beloved Eutillia Thomas Attidore better known as Miss Tam age 68 of Mahaut who passed away on Thursday, October 13, 2022 at her residence.
She leaves to mourn:
Father : Gillis Thomas in England
Chidren: Jeff Henry, USA, Wayne & Ian Bedeau, UK, Yolande Daily, Dominica
Grandchildren: Tatiana and Tylar Green
Rubyanna, Youri, Giovanni, Aquilla, Alexis & Kianne Bedneau,
Sarbyna, Annylah, Gibran, Brandon, Mickael and Jahlon Esprit
Millinda Auguiste, Kannie Benjamin, Hammon Laurent,Allyah and Mya Henry
Great-Grandchildren: Elodie Bertrand
Sisters : Sheryl Ambrose, Canada & Augustina Thomas, UK
Brothers : Charles Thomas, Dominica
Elgard & Steven Thomas, USA
Nieces: Kanika, Frances, Waunder, Shadi, Breanna, Marilyn, Angela, Dezra, Shanice, Stephanie, Diane, Adonis, Vivian, Tamica, Nara, Donnette Karen, Cleo,
Nephews: Garvin, Clyde, Romeo, Albert, Elgie, Devminister, Grimson, Daniel, Wilfred, Stephen, Samuel, Dave, Kenneth
Grandnieces & Nephews: Shane, Zyena, Jersiah, Deshalar, Briel, Jeriel, Leah, Naomi
Godchildren : Lorma and Kendra
Grandson in Law: Ernest Bertrand
Sisters in law: Michelle & Suzie Thomas, Joanne Joseph
Brothers in Law: Reg Ambrose
Cousins: Jenner Charles, Alfreda Barber, Magdalene Brumant
Caretakers: Sharon & Cylma
Close Friends: Camilla, Telma Frampton, Caryl, Ms. Helen, Wilma, Carol Jno Charles, Shirley George, Marcia Dublin Lennox Bedneau, Eunice Andrew, Sherian Gordon, Decima & Hilkiah Lavinier, Dale, Perline, St. Rose, Agatha Alexander.
The Bruno & Thomas family in Warner, Dublin & Joseph family in Mahaut, Rabess Family in Canefield & the Bedneau Family
Doctor, Nurses, Staff & Friends of the Dialysis Unit and Glover Ward
Prime Minister Hon. Roosevelt Skerrit & Hon. Reginald Austrie and other names too numerous to mention
Thanksgiving Service in celebration of the life of  Eutillia Thomas Attidore better known as Ms. Tam will be held on Saturday, November 5, 2022 at the St. Martin De Porres Catholic Church, Canefield. Viewing will be from 8:30 am and funeral service will begin at  9:00 am.
Interment at the Massacre Catholic Cemetery.