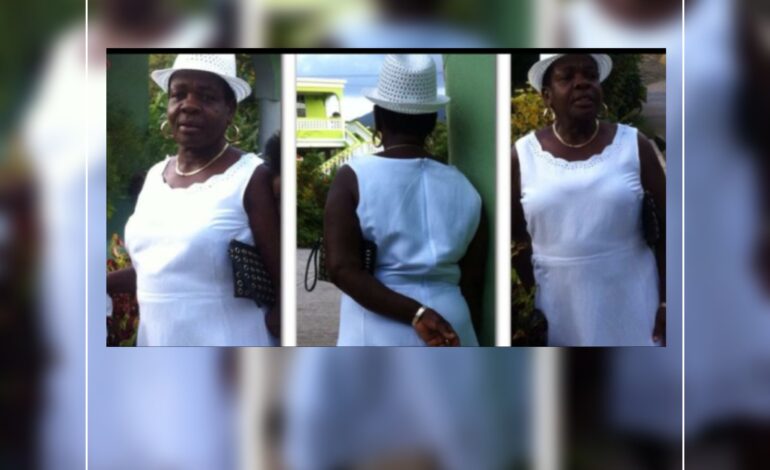 We announce the death of 67 year old Mrs. Victoria Baron Charles of Geneva House, Grand Bay. She died on September 16, 2022 at her residence.
Survived by:
Mother:  Veronique Paswell
Children: Juliana Dominique, Vermalyn & Irma Thomas, Leticia Hector, Patricia & Paula Charles
Grand children: Alvinson, Marvin aka Dj Mj, Lowick, Sherwin, Jah-Hi-Wan, Sherquan, Lorenzo, Martaio, My-Key, Kazim, Fah-yeed, Deh-Lyanna, Aay-len, Tay-Dya, Cloé, Sherma, Reeyan, Kernisha, Kernessa, Mia, Brinae, Sherine, Kassania and Kijanna.
Great Grand Children: Ah-Jani, Marley, Liam, Oh-Day, Jai-Lee, Lershawn, Oh-Nicka, Anniyah, Ammiyah, Lorena, Mi-Kai-Rah, Ammiyah, and Kassanie
Brothers: Patrick, Robot and Tony
Sisters: Emaline and Miss Bee in Dominica, Mary, Margaret, Pauline and Miranda in London and Verna in Alabama
Adopted son and nephew: Jimmy Haguy
Nieces and Nephews: Sherman, RorYee, Dylon, Kevin, Jahna, Jahred and Marliyah.
Other nieces and nephews here and abroad too numerous to mention.
Brother-in-law:  Felix St. Luce in Alabama
Close relatives: Lynthia, Mariette, Georgette, Joyce, Euline, Ivinia and E-Lar-Wyorl.
Other Relatives and friends: Julie, Ms. MyDear, Charles Cuffy, Kalitas, Agustus, Jerome, Jonia, App-Seh, Minera, Ivonia, Yvette, Annie, Suzerine and family, Phillipa, Helen, Magdaline, NayNaage and Royette, Madline and family, others too numerous to mention including neighbors, the entire Geneva House, Hagley, Grand Coulibrie and Montin community, Hon. Prime Minister Roosevelt Skerrit, Hon. Vince Henderson, Mr. Cecil Joseph
The funeral date will be given in a subsequent announcement.
Funeral arrangements entrusted to North Eastern Funeral Association