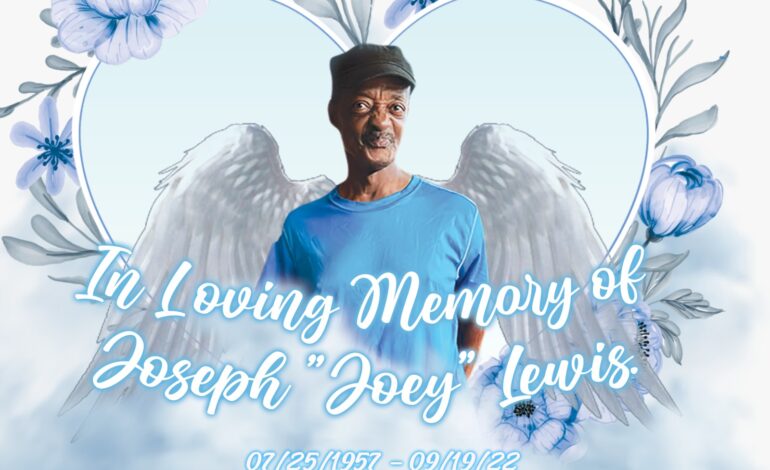 It is with profound sadness that we announce the death of Mr. Joseph "Joey" Lewis, aged 65, of Kings Hill.
He passed away at the Dominica China Friendship Hospital on Monday, September 19th, 2022.
He left to mourn:
3 Daughters: Jo-Ann and Jossier in Dominica and Josette in St. Kitts
1 Son: Joseph Lewis in St. Maarten
6 Grand Children: Maxso Germain, Jahmal Nelson, Arjay and Myrrah Samuel, Amaya Dejean in Dominica and Alyssa Mitchel in St. Kitts
Brother: Julius Lewis in the US
Sisters: Judith Lewis-Henderson in the USVI and Gertrude Lewis
7 Nephews: Miles Henderson, Saiid Lewis and Jade Cambran in the US; Grant Joseph, Nathan Webb, Craig Henry and Devry Riviere in Dominica.
I
5 Nieces: Jewel Stott and Taylor Lewis in the US, Simone and Heather Henderson in USVI, and Gillene Lloyd in Dominica
Close Relatives and friends including Dona and Hartwell Theodore, Elizabeth and Harrison Lanquedoc and family, Megan St. Hilaire, Ermine Royer, the former management & staff of J.E. Nassief & Co., management and staff of A.C. Shillingford (High Street), and members of the communities of Kings Hill and Morne Bruce. Other friends and family, names too numerous to mention.
The body of the late Joseph Joey Lewis will be transported from Lyndhurst Funeral Home from 2:00pm on Thursday, October 27th, 2022 at the Truth and Grace Fellowship Church. Funeral Service begins from 2:30pm, followed by interment at the Roseau Public Cemetery.