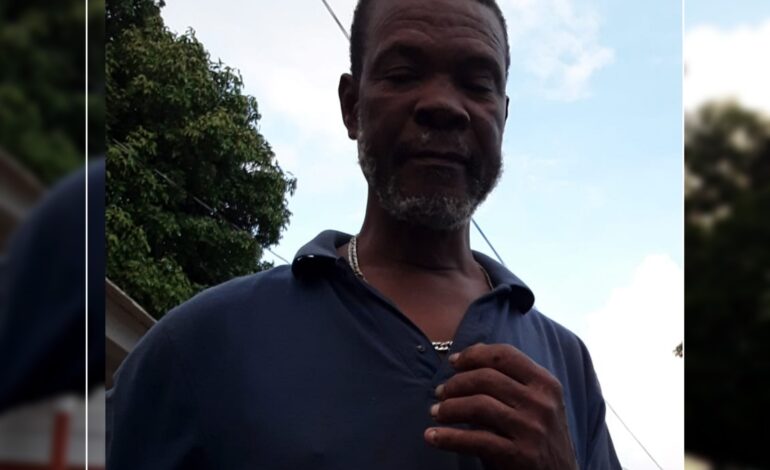 It is with profound sadness that we announce the death of 64 year old Auldwyn Popo of Salisbury who resided in St. Thomas.  He died on 17th February 2023 at the DCFH.
He was the son of deceased Matina John Louis and Daniel Popo
He left to mourn:
One son: Julian Popo in St. Maartin
Two daughters: Adwyn and Cierra Angel Popo in the USA
His sisters: Elsa Timothy in Dominica, Roselyn Wathey, Adeline Mathew in St. Maarten and Fayma Alfred in the US
Brothers: Roland Popo and Bruney St. Luce in St. Maarten
Grandchildren: Shamika and Jurien Popo and Juliska Maurishow
Daughter-in-law: Decima Popo in St. Maarten
In-laws: Herman Timothy, Al Wathey, Esther St. Luce and Vicky Popo
Nieces and nephews including: Alex Howe and Royston Williams, others too numerous to mention
Close Relatives and friends including: Cuthbert Vidal, Verna Barry, Hesline Ambo, The John Families in Colihaut and Salisbury, the Serrant Family in St. Joseph, Popo family in Giraudel, Casimir, Vidal and Frederick families in St. Thomas, doctors and nurses at the ICU, Agatha Tanty Williams, Petra Jules and the Salisbury Community
The body of the late Auldwyn Popo aka Popo will be transported from Lyndhurst Funeral Home for viewing at 2:30pm on Saturday 11th March at the Salisbury Catholic Church. Funeral Mass begins at 3:00pm followed by interment at the Salisbury Catholic Cemetery.