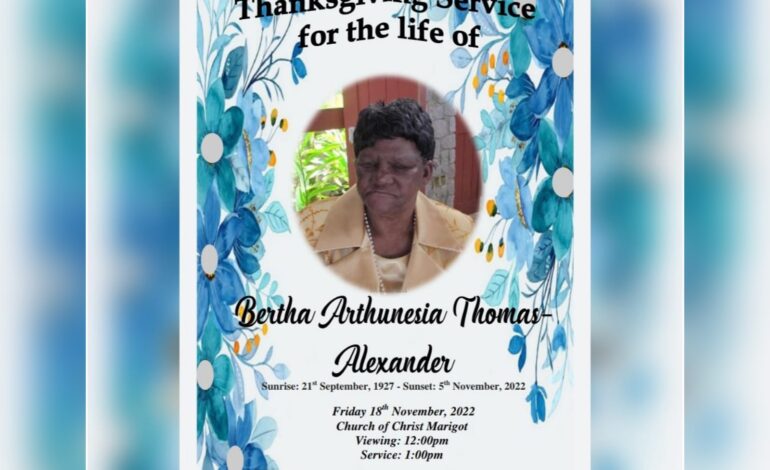 We announce the death of 95-year-old Mrs. Bertha "Arthurnesia" Alexander, better known as "Ma Elijah or Ma Bertha" of Marigot Dominica. She departed on Saturday November 5th, 2022 at her daughter's residence at Valley Marigot.
She is survived by:
1 Sister: Mrs. Mary Marie
Daughters: Claudia, Edithan, and Alethia Alexander. Adriana Romain, June Prince, Casilda Alexander-Valmond, Hyacinth Alexander-Joseph.
Sons: Charles Worth, Leighton, Chalian, Simon, and Clint Alexander
34 Grandchildren: Jeanna St John in Africa, Kevin, Wendel, Donnel Romain, Hester Joseph, & Marcus Alexander in the United States. Harley Joseph in Nevis. Mc Judy St John & Yannick Remi in St Maarten, Cyprian Romain in Antigua, Sherlon Alexander in Canada. Larry Romain, Dwight Yankee, Jimmy, James, Marley & Jacquline Francis, Frantz Wallace, Johny& Hilma St John. Samekha, Jamal & Azamat Prince, Sherlon Alexander, Cherese, Raphael, Chervon & Cherina Valmond, Donnel, Delon, Delayney,Dayana & Dayonne, & Alvin Alexander in Dominica
35 Great Grandchildren, 5 Great Great Grandchildren.
Daughters-in-Law: Marlicia & Claudia Alexander,
Sons in Law: Evangelist Lewis Romain, Emmanuel Prince, Raphael Valmond (Sr) & David Joseph
Grand Daughters in Law: Sarah, Justina, Tamara, Stacy, Kamille Romain, and Grace Prince
13 Nieces, 6 Nephews, and several cousins too numerous to mention.
2 God children: Vinton Richards and Desmond Boland
Nieces in Law: Lister Riviere & Merlyn Lewis, Evadray Marshall
Nephews in Law: Charles & John Corbette
Friends to Include: Former Senator Dayton Baptiste, Mrs Monlight Greer, Nurse Fedora Christmas & Family Mrs Ursuline Joseph & Family Edorin Joseph Priam Mitchel & Family, Mrs Mary-ann Mathew & Pasty.
Members of the Churches of Christ in Dominica, The Communities of Marigot, Wesley & Chance Portsmouth, Nurses & Doctors of the Marigot & Portsmouth Health District, the Thomas Robin, Dorsett Riviere, & Ducreay families of Marigot. The Marshall family of Canefield, several other relatives and friends at home and abroad who are too numerous to mention
Her life will be celebrated on Friday November 18th, 2022 at the Marigot Church of Christ.
Viewing commences at –12:00PM, followed by the Celebration Service from-1:00PM.
Interment will follow at the Marigot Public Ceremony.